Flickering Lights
(2001)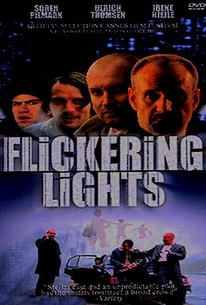 Movie Info
A career criminal stumbles upon his big chance to get out of the business, though not everyone thinks it's such a good idea, in this witty thriller. Torkild (Soren Pilmark) is the leader of a band of small-time crooks; having just celebrated his 40th birthday (which coincided with his being dumped by his girlfriend), Torkild is looking to land a big score so he can get out of the business. While trying to map out a major heist, a guy known as the Man From Faro (Peter Anderson) approaches Torkild with a job -- he needs someone to steal a bag for him. Torkild and his cronies are up for the job, but they soon discover that a team of security guards is on hand to make sure the bag isn't stolen, and one of Torkild's friends is wounded in a shootout. After they've made their getaway, Torkild discovers why everyone was fighting over the bag -- it contains over four million kroner ($500,000 in American currency) -- and he and his partners decide they're not keen on turning it over to the Man From Faro. After their car breaks down, Torkild and company happen upon an old restaurant that's up for sale, and they decide to use their newfound wealth to buy it and go into business -- which would be complicated enough without the arrival of the Man From Faro, who wants to know what happened to the money he hired Torkild to steal. Blinkende Lygter also stars Iben Hjejle, who gained the attention of American audiences as John Cusack's love interest in the film High Fidelity.
Critic Reviews for Flickering Lights
Audience Reviews for Flickering Lights
Blinkende lygter
So what's with all of the animal slaughter? I have this theory that the Danish film industry is trying to corner the "quirky" market. If they want to do that, and if they want to keep the fans they have, they'd better think twice about their treatment of animals on screen. Any point that could be made in this movie could have been made without killing a single animal. Quirky? How about irritating.
Lanning : )
Super Reviewer
Four Danish criminals hide out from their boss The Eskimo in a dilapidated country restaurant after pocketing the loot from the latest job. Made by Anders Thomas Jensen (ADAM'S APPLES),it's an entertaining mixture of sentimentality, comedy, brutish violence and Danishness.
Flickering Lights Quotes
There are no approved quotes yet for this movie.