Flight of the Navigator
(1986)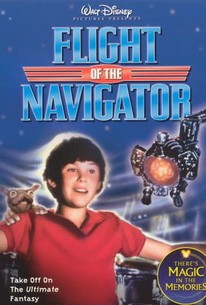 TOMATOMETER
AUDIENCE SCORE
Critic Consensus: Bolstered by impressive special effects and a charming performance from its young star, Flight of the Navigator holds up as a solidly entertaining bit of family-friendly sci-fi.
Flight of the Navigator Photos
Movie Info
The year is 1978: 12-year-old David Freeman (Joey Cramer), playing in the woods near his home, is knocked unconscious. He awakens and heads home, only to find strangers living there. He also finds that the year is 1986, and that he's been officially missing for eight years. NASA officials determine that David was abducted by aliens during his blackout, and hope to scan the boy's brain in order to unlock a few secrets of the universe. Answering the call of a strange, unseen force, David boards a well-hidden spaceship and takes off, guided by the jocular voice of a computer named MAX (voiced by none other than Paul Reubens, aka Pee-Wee Herman). Realizing that he can't fit in to 1986 so long as he's a child of the '70s, David hopes to retrace the steps of his alien abductors and get back to his own time.
Critic Reviews for Flight of the Navigator
Audience Reviews for Flight of the Navigator
Always loved this Disney flick, great effects and adventurous plot that is kinda 'Back to the Future' mixed with 'Explorers' purely for kids with an extraterrestrial twist. The effects were fantastic for the time and it was the first film to use environment mapping, the CG was some of the first used in motion pictures and in my personal opinion they still hold up very well today, I might add they also used stop motion in the mix too! truly classic workmanship. As said the effects were always the star attraction with this film, the ship looked way cool (simple design for today of course), the hydraulic alien arm thing inside was nicely designed, the ships interior was really well designed and looked almost like the interior of the 'Predator 2' ship whilst the other aliens creatures were all decent muppet style creatures which were simple fun and amusing. The whole film was so well made and showed so much vivid imagination, it was colourful and a really exciting ride for kids at the time, I loved every minute of it. The only thing I never liked was Paul Reubens voice as the alien later on in the film, that spoilt the sensible aspect of the plot and made it stupid with his 'Pee Wee Herman' voice. SJP made up for it being very very cute and one of my first kid crushes :)
Phil Hubbs
Super Reviewer
½
This lively alien-fantasy-action film is exciting without relying on agression. The extra-terrestrial creatures are bad Muppet imitations, although that alien with a cold is a gem. As a NASA intern, Sarah Jessica Parker looks the same as she does now.
Dean McKenna
Super Reviewer
½
Another movie I saw as a kid, this sci-fi adventure is pretty cool, but very much for kids. I don't think I'd like it as much today.
Flight of the Navigator Quotes
| | |
| --- | --- |
| Max: | I crashed into electrical towers and my star charts were erased. I need the ones in your head to complete my mission. |
| David Freeman: | So you need ME and my INFERIOR brain to fly that thing? |
| Max: | Correction, I need the SUPERIOR information in your INFERIOR brain to fly this... thing. |