Flight to Mars
(1951)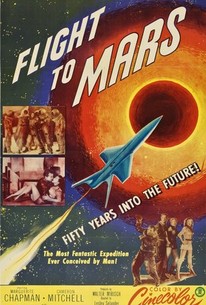 AUDIENCE SCORE
Critic Consensus: No consensus yet.
Movie Info
Flight to Mars is the second American film of the postwar era (after the previous year's Rocketship X-M) to depict a manned space trip to the Red Planet. Leading-man responsibilities are evenly divided between Arthur Franz as brilliant scientist Dr. Jim Barker and Cameron Mitchell as two-fisted reporter Steve Abbott. Both men make the journey to Mars, finding time along the way to battle over the affections of leading lady Virginia Huston. Upon landing on Mars, the earthlings learn that planetary leader, Ikron (Morris Ankrum, a fixture of 1950s sci-fi), intends to conquer the world. Fortunately a group of good Martians are on hand to lend moral and physical support to the heroes.
Critic Reviews for Flight to Mars
All Critics (3) | Fresh (1) | Rotten (2) | DVD (1)
Ultimately compromised by a lack of finances, a weak script, and artless, one-take direction.
Mediocre even for its 1950s sci-fi time; low budget is biggest culprit.
March 16, 2009 | Rating: 2/5
Audience Reviews for Flight to Mars
his film is one of many that were released back to back by studios back in the 1950s to cash in on the sci-fi an alien craze. You can tell that this was a half-hearted production not only form the formulaic and empty-can plot, which is something we are used to from Hollywood, but because the film recycles sets, costumes, props & music from other films that were made just years before. Be that as it may, the film is a classic new world / adventure storyline about a bunch of scientists (and one very obnoxious journalist) who make their way to Mars on a rocket ship. As you might expect, the special effects and sets are a delight for all fans of b-movie thrill and retro cinema, garishly red colours denote the cities of Mars and the people of Mars walk around in some of the goofiest outfits you will ever have the pleasure to see on screen. The story is quite sophisticated for such a low budget film and picks up speed towards the last third of the film when an intrigue threatens to hinder the return of the earthlings altogether. The acting is quite stale and wooden and like I said, this film is probably a major contender for all sorts of guilty pleasures and campy film lists featuring alien women in very short skirts and Betty Page hairdoes as well as brave men from earth in WWI jet fighter jackets. Still, wit a running time of just over an hour the retro appeal, it is worth watching for genre connoisseurs and grind-house fans.
Henrik Schunk
Super Reviewer
Flight to Mars Quotes
There are no approved quotes yet for this movie.