The Flintstones in Viva Rock Vegas
(2000)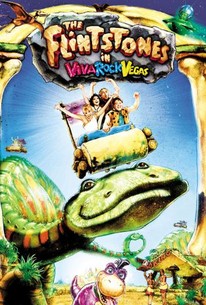 TOMATOMETER
AUDIENCE SCORE
Critic Consensus: The prequel to the first full-length feature set in Bedrock, Viva Rock Vegas is a surprising improvement over The Flintstones. Aimed towards an audience of adults and children alike, critics feel Viva will appeal to a broad range of viewers.
The Flintstones in Viva Rock Vegas Videos
The Flintstones in Viva Rock Vegas Photos
Movie Info
Before the Flintstones were everyone's favorite Stone Age family, Fred was just a regular guy looking for the girl of his dreams, and his romance with Wilma sets the stage for this prequel to the 1994 screen adaptation of the popular cartoon series. Fred Flintstone (Mark Addy), a working-class caveman who earns his living at Mr. Slate's quarry, falls in love with wealthy heiress Wilma Slaghoople (Kristen Johnson). While many people think that Fred is out of his league, including Wilma's mother Pearl (Joan Collins) and her father Col. Slaghoople (Harvey Korman), he's determined to win her heart. And when his best friend Barney Rubble (Stephen Baldwin) decides to take his best girl Betty (Jane Krakowski) for a fun weekend in Rock Vegas, he invites Wilma to tag along. The Flintstones in Viva Rock Vegas recasts all the major roles from 1994's The Flintstones; Harvey Korman is the only actor to appear in both films, though in different roles (in the previous movie, he was the voice of the Dictabird).
News & Interviews for The Flintstones in Viva Rock Vegas
Critic Reviews for The Flintstones in Viva Rock Vegas
Audience Reviews for The Flintstones in Viva Rock Vegas
½
it was just an average movie with a few chuckle moments
Michael Edwards
Super Reviewer
This is one of the worst movies I have seen. The only good choice in my books is Mark Addy playing the character he was obviously genetically engineered for (still, no John Goodman). This film is absolutely terrible, a film which you would want to avoid like the plague. The plague carried in little bowls by Satan's henchmen. Who are also holding chainsaws. Giant chainsaws. You get the picture. Terrible movie. Defining Scene: I refuse.
Thomas Bowler
Super Reviewer
½
"The Flintstones in Viva Rock Vegas" isn't what you would expect it to be. Instead of being a sequel to the "The Flintstones," it's a prequel. It shows how Fred, Wilma, Barney, and Betty came to meet in the first place. Oh yeah, don't forget the well animated Dino. You'll find out some things about Wilma, Barney, and the others that you most likely never knew about, such as Wilma being rich. If you've ever watched the cartoon series in your life, then you'll already somewhat know how this movie turns out, such as Fred and Wilma being together, but you'll find out a lot of interesting stuff along the way and find out that everything wasn't all smooth sailing for the Flintstones and the Rubbles. I used to watch the cartoon series of The Flintstones when I was a kid, but I didn't like the movie, "The Flintstones" much at all. "The Flintstones in Viva Rock Vegas" is a much better movie than the first one in my opinion. Parts of it are hilarious, and the whole movie is very entertaining. My only complaint is that I sort of doubt that a few parts of the story hold true for a stone age family, such as Mick Jagger being alive and Coca-Cola existing. But there are some of the famous Flintstone antics such as a dinosaur being used as a bridge. If you've ever been a fan of the cartoon series, and even if you haven't ever been much of a fan, I would recommend watching "The Flintstones in Viva Rock Vegas." It has good acting, it's funny and entertaining, and it has good effects that make it look like a live episode from The Flintstones. NOTE: That was my Amazon review from the year 2001. I liked this movie much better than the original.
Jason Owens
Super Reviewer
The Flintstones in Viva Rock Vegas Quotes
There are no approved quotes yet for this movie.