Flirt
(1996)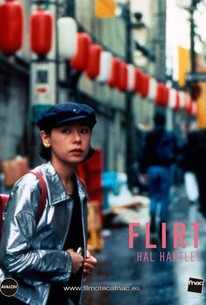 Movie Info
This episodic, internationally-produced drama from filmmaker Hal Hartley offers three variations on a singular theme: the romantic dilemma faced by a flirtatious lover when his primary partner begins asking for a real commitment. The first introduces the basic tale. Set in New York in early 1993, this segment was pared down from a 23-minute short film. Bill stands at a pay phone; his lover Emily is in her apartment trying to persuade him to commit to her before she leaves for Paris because she has just received a marriage proposal from another. Eventually he agrees to have made his decision by the time he picks her up for the ride to the airport. While on the phone with her, he flirts shamelessly with a beautiful girl. Afterward, he calls Margaret, his other lover, and asks her the same questions Emily asked him. Later a good friend warns Bill that Margaret has just split up with her husband and another counsels him that Margaret is poison. Utterly confused, Bill visits a public restroom and begins talking to himself. Much to his surprise, three bums, in Greek chorus fashion, advise him. A little freaked, Bill heads for a bar and finds Margaret's disconsolate husband who is drinking himself blind in preparation to shoot himself. The men talk and Bill is accidentally shot. Later he lies in a hospital dreaming of women. As he does, he finally realizes what he must do. The second variation is set in 1944 Berlin and retells the same story, using the same dialog, with homosexuals playing the major roles. The third tale is set in Tokyo, 1995 during the rehearsal of a butoh mime troupe. All wear heavy white make-up and billowy clothing. This variation is freer than the others, but the story remains much the same.
Audience Reviews for Flirt
Not my favourite Hal Hartley, but interesting.
Nicki Marie
Super Reviewer
Anthony Valletta
Super Reviewer
Flirt Quotes
There are no approved quotes yet for this movie.