Florence Foster Jenkins
(2016)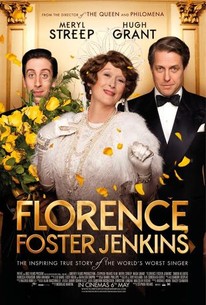 TOMATOMETER
AUDIENCE SCORE
Critic Consensus: Florence Foster Jenkins makes poignant, crowd-pleasing dramedy out of its stranger-than-fiction tale -- and does its subject justice with a reliably terrific turn from star Meryl Streep.
Florence Foster Jenkins Videos
Florence Foster Jenkins Photos
Movie Info
A wealthy New York heiress (Meryl Streep) attempts to become an opera singer despite her horrible singing voice. Hugh Grant and Rebecca Ferguson co-star in this biopic directed by Stephen Frears.
Critic Reviews for Florence Foster Jenkins
Audience Reviews for Florence Foster Jenkins
A charming love story for the imperfect who are filled with perfect love.
Christian C
Super Reviewer
When it comes to biopics, there are certain instances where there just isn't enough substance to sustain an entire feature film and others where that seems to be the case, only to be done better with another crew down the line. Case in point, Ashton Kutcher's take on Steve Jobs in Jobs and then Michael Fassbender's portrayal later that same year in Steve Jobs. Then there are films like Florence Foster Jenkins. When picked up by the right studio and hand-picking the proper writer to helm a story line this, sometimes the first time really is the charm. While there are a few annoying aspects to this film, here are a few reasons why I found this film to be absolutely delightful as a whole. In the wake of getting cancer, this story follows Florence (Meryl Streep) as she tries to resurrect her music career. Thinking she still has what it takes to perform and produce music, she sets out to find a pianist in Cosme McMoon (Simon Helberg). Determined to help her, while having the utmost faith in her as well, her husband St. Clair (Hugh Grant) remains by her side as she rehearses and prepares. The kicker is that she is now a terrible singer, but nobody has the guts to tell her, so they just choose to train her as much as possible for a show that will ultimately make people laugh hysterically. I would normally be growing tired of Meryl Streep in these types of roles, but she truly gives a heartwarming and compelling performance as this titular character. I truly couldn't see anyone else in this role. This is the type of film that could potentially be an extreme bore to most audience members, unless the right talent is acquired to bring these characters to life. Thankfully, this cast plays off each other as if they have been acting together for years. Meryl Streep is incredible as this character, so there really isn't much to say there. Hugh Grant as her husband feels very well-realized and I believed every second of their chemistry together. Having said that, the real standout to me was Simon Helberg. His incredibly quirky performance as Cosme made me chuckle, become incredibly annoyed by his laughing, and ultimately really care for the character in the end. Some may find his portrayal quite annoying, but comparing this to the television series, The Big Bang Theory, which is what he is most known for, he definitely shows his range. While I really do like Rebecca Ferguson as an actress, her character bugged me every time she was on screen and some of her moments with Hugh Grant detracted from the core story since there is little to no payoff with that side plot. I would've cared more if their was some sort of realization scene. On top of that, many of the scenes requiring the character of Florence to be singing really had me cringing. Yes, that is the intention of the film, but the scenes do go on a little long and make for a few off-putting sequences. That being said, this film is a very well-structured piece of filmmaking that I will look back on and remember as a 2016 release. I really enjoyed watching Florence Foster Jenkins. In the end, Florence Foster Jenkins is the type of film that is hard to market to an audience, as it seems like a period piece that would usually only appeal to an older audience. Having said that, I would like to recommend this to many different age groups, due to the fact that it is quite funny and heartwarming. It is a far more accessible film than the trailers make it out to be. Yes, this is a film that goes through the many motions that you would think it would explore, leaving nothing too surprising on the table, but as a film, it is very emotionally effective. This will not be mentioned as one of my favourite films of the year by any means, but I will most likely give it an honourable mention. Florence Foster Jenkins is a delightful and emotionally satisfying biopic.
½
Stephen Frears has become an expert in making forgettable biopics in recent years, and so he gives us another silly and harmless light drama with comedic touches and a great performance by Meryl Streep, who steals the show like she always does when starring in unimpressive films.
Carlos Magalhães
Super Reviewer
Florence Foster Jenkins Quotes
There are no approved quotes yet for this movie.