Flowers in the Attic
(1987)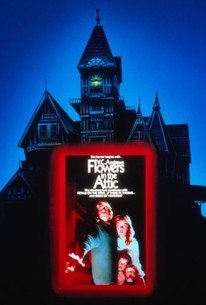 Flowers in the Attic Photos
Movie Info
Based on the popular novel by V. C. Andrews, Flowers in the Attic centers on such chancy topics as incest and misguided religiosity. When their father is killed, teenagers Cathy (Kristy Swanson) and Chris (Jeb Stuart Adams), together with their preteen siblings Cory (Ben Ganger) and Carrie (Lindsay Parker), are put in the care of their religious-zealot grandmother (Louise Fletcher). Grandma has never approved of the wanton lifestyle of the kids' mother Corinne (Victoria Tennant), and she has no intention of extending her love to the children. Even worse, Corinne is anxious to win back the love of her estranged father, who, knowing that Corinne and her late husband were cousins and thus incestuously linked, would never approve of any children from this union. Thus, the four children are locked in their grandmother's attic, far from the view of their unforgiving grandfather. How the kids cope with their imprisonment is the heart of the film.
Critic Reviews for Flowers in the Attic
Audience Reviews for Flowers in the Attic
I love the book, read it many times growing up. The movie does not stay true to its source, which is a real shame as the ending does ruin it. It's kind of weak as adaptations go, I think it's a little miscast and it hasn't aged very well, either. Kristy Swanson is an okay Cathy and the grandmother is also effective. The boys fail to convince and the mother is weak (her acting, I mean. Obviously the character is weak). It is watchable and the story is so horrific it does draw you in. I know another adaptation has been made and also one of the sequel, so I am very interested to see those and see if they were able to improve on this.
Nicki Marie
Super Reviewer
Scarred me for life when i saw it on TV as a kid.
Sunil Jawahir
Super Reviewer
½
Weird and creepy and I dislike the bitch granny, then four innocence kids' mother.
Dean McKenna
Super Reviewer
Flowers in the Attic Quotes