Flubber
(1997)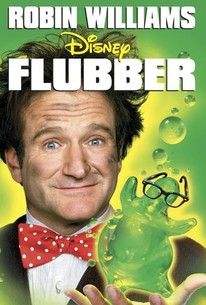 TOMATOMETER
AUDIENCE SCORE
Critic Consensus: With its overactive focus on special effects and tiresome slapstick, Flubber squanders the immense talent of its cast and crew.
Movie Info
Remake of ÒThe Absent-Minded ProfessorÓ finds Robin Williams concocting a physics-defying substance that may save his failing college. Uneven but good natured.
Critic Reviews for Flubber
Audience Reviews for Flubber
½
In this effects heavy remake of "The Absent-Minded Professor", we get the tale of an absent-minded college professor who has a 'happy' accident that results in the creation of a translucent green blob-like substance he comes to call flubber (flying rubber). From there, hijinx ensue, as the prof. can't remember how he created the formula, nor can he remember that he is to marry the president of the failing college he works at. On top of that he also has an arch rival and his cronies to deal with, as well as the flubber itself, which pretty much has a mind of its own. The film really offers nothing new except for some special effects based spectacle. This is kinda cool, but even this isn't all that groundbreaking. There's lots of wacky slapstick based humor, but your opinion of this brand of laugh generator will determine how much of the jokes here are hit and miss. I honestly don't remember much from this movie, but I recall growing tired of the slapstick (and Williams's typical shtick) rather fast. The film does try, but not really as hard as it could have, Ultimately this is a rather 'meh' affair, but if you're bored, you might get some amount of enjoyment out of it.
Chris Weber
Super Reviewer
½
An idiotic remake of a fun kids movie from the 60s. Sure Williams tries to make this movie fun too, but overall it's too stupid and ridiculous even for kids.
A funny feel good family film!
Bethany Murphy
Super Reviewer