Fluke
(1995)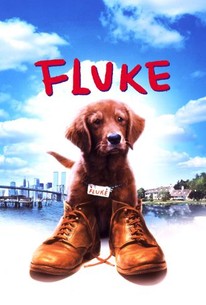 Movie Info
This is a children's movie with enough darker undertones to appeal to adult audiences as well. It is the story of a man who dies and finds himself reincarnated as Fluke, a large dog. The man, Thomas Johnson, is killed during an auto race with his best friend and business partner Jeff Newman. When Johnson wakes up following the wreck, it is as a large brown dog. (From this point on, the film is shot from the dog's point of view) Fluke is then seen as a puppy torn from his mother and forced to endure different forms of cruelty from the people that own him. He is later adopted by a homeless woman and is happy, until she dies. He is then befriended by Rumbo, a street-smart stray who begins to teach Fluke the fundamentals of survival. Then Fluke loses Rumbo when the cur is shot. Fluke/Johnson begins to remember his human wife and gentle son; he decides he must find them and become a part of their lives. As he travels, he is also haunted by the fight with his partner that precipitated the race. When Fluke does finally arrive to his former home, he must really work to get his wife to accept a pet, and also he must work to bond with his son who still suffers terribly from the loss of his father.
Audience Reviews for Fluke
A film with both a shaggy-dog type story and a moral. A little bit for everyone.
Lame, depressing, and just plain inappropriate for kids. I find it amazing that Samuel L. Jackson chooses to waste his talents on crap like this.
Dillon Lupky
Super Reviewer
½
Parents, if you ever see this on the shelf of a video store, don't let the cute little dog wearing shoes fool you. Fluke is a very heavy dog movie. And by heavy, I mean by the film's themes. Here's a brief synopsis: Fluke is a dog who was once a human. After dying in a horrific car accident, he re-incarnates as a dog and goes on a journey to find his wife and kid who he left behind. Sounds dark? I know. Who knew that a movie about a dog can be a real tearjerker? Fluke is either going to make you cry or make your heart like a 10-ton safe. This is not a movie for the toddlers. Watch this movie if you have kids who are 7 and over. DO NOT WATCH THIS WITH VERY SENSITIVE KIDS!!! It might be pretty hard to see this at the video store. If your a Netflix member, definetly add this to your queue. When you do, I hope you enjoy it. Fluke only grossed $5 million upon its release and was badly received by critics upon its release. But with mostly positive reviews by the Rotten Tomatoes community and a 60% fresh rating, I have a feeling that Fluke might have become a cult classic. "We can keep each other warm."
Bentley Lyles
Super Reviewer
Fluke Quotes
There are no approved quotes yet for this movie.