Flyboys
(2006)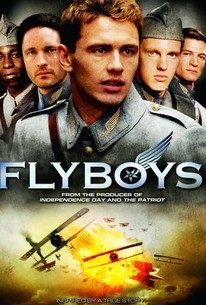 Movie Info
As World War I rages in Europe and Allied forces in France, Italy, and England find their resolve quickly diminishing due to the overwhelming force of the German juggernaut, a handful of brave American soldiers volunteer to join their French counterparts in learning to fly and fighting for freedom from above as the true story of the legendary Lafayette Escadrille comes to the screen in a breathtaking war adventure from Academy Award-winning director Tony Bill and famed producer Dean Devlin. They have come from all over the United States, ready and willing to put their lives on the line despite their country's initial pledge to not get involved with the all-consuming war that rages throughout Europe. Few could have foreseen the challenges faced by the world's first fighter pilots, however, and upon arriving at their aerodrome in France, the aspiring aviators are assigned to a new squadron under the command of war-ravaged Captain Thenault (Jean Reno) and battle-weary American pilot Reed Cassidy -- the sole survivor of his devastated former air brigade. With little encouragement from their fellow aviators and nothing to drive but their unifying goal of taking to the skies and offering up their lives in the name of freedom, the determined airmen of the Lafayette Escadrille set out to make history by embarking on the adventure of a lifetime. James Franco, Martin Henderson, and David Ellison star in a script penned by Phil Sears, Blake T. Evans, and David S. Ward.
Critic Reviews for Flyboys
Audience Reviews for Flyboys
This is a great movie about flying aces during WW1. A small group of Americans go to France to join the flying corps and battle the German flying aces, alittle cliched in places, alittle smoochy here and there and rather predictable to be honest but this is good boys own Biggles type stuff based on fact. The effects are great and do the job, the dogfights are really excellent and quite tense whilst the acting is ok, not great but worthy enough. The story sucks you in with its brash tale of young aces and romance and its not hard to get behind the heroes and cheer as they bring down the bosh haha. Overall its not really graphic with the bloodshed and not extreme in any way but it does the job of showing how the pilots fought and what they went through, with alittle Hollywood sparkle of course ;) Think 'Memphis Belle' with better effects and abit more realism, good fun with a caring heart to the facts. Scarfs on and chocks away chaps.
Phil Hubbs
Super Reviewer
½
It really wanted to be good, but it was just too cheesy. The dialogue, acting and plot cliches were just too annoying for me to enjoy the movie as a whole, despite the fact that some of the dogfight scenes were pretty cool.
½
What a wonderful film! Right from start to finish I enjoyed every bit of it!
Flyboys Quotes
There are no approved quotes yet for this movie.