Focus
(2001)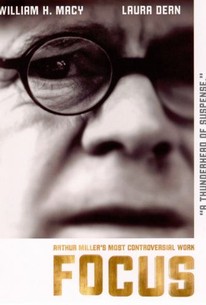 Movie Info
In New York, during the height of World War II, an American community begins to unravel when a man and his wife become victims of mistaken identity. Lawrence Newman is an ordinary man who does not want to stand out in a dangerous world. Even when a woman is attacked outside his Brooklyn window, he remains quiet about what he saw, unwilling to make waves and so fearful, he even begins to question what he truly saw. But then unassuming Newman and his outspoken new wife, Gertrude, become caught up in a case of mistaken identity. Slowly ostracized at home and work, they learn the value of solidarity as they struggle to maintain their dignity while confronting their nation's lurking anti-Semitism. The unwitting focus of his neighbor's prejudice, Newman is faced with a choice: go down as a coward or take a long shot at becoming the unlikeliest of heroes by telling the truth.
Audience Reviews for Focus
This movie was so true to the book that I felt like I had seen it before. The book was a little more detailed, so I have to say I liked that better. However the movie was very well acted and captured the right feel and emotion.
Sarah Prisbylla
Super Reviewer
½
I think that they need to show this movie in every Sociology class. It's a perfect example of how, for example, Hitler's Germany was even possible. It shows how easily people can be manipulated and influenced by hateful thinking in society. It was an apalling thing to watch unfold, and intensify, but it was at the same time an amazing thing to watch. Scary, but amazing. ..On a side note, William H. Macy was fantastic, as usual.
Cynthia S.
Super Reviewer
Focus Quotes
There are no approved quotes yet for this movie.