Foo Fighters: Back and Forth
(2011)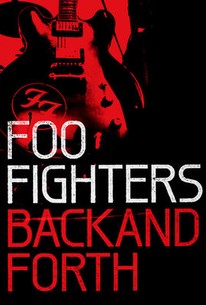 AUDIENCE SCORE
Critic Consensus: No consensus yet.
Movie Info
Dave Grohl had been writing and recording songs since he was a teenager in Washington D.C., but it wasn't until Nirvana collapsed after the death of Kurt Cobain that Grohl opted to step out from behind the drum set and move forward as a frontman. The Foo Fighters' self-titled debut album featured Grohl playing all the instruments, but he soon assembled a working version of the band to go out on tour, and seventeen years after their 1994 debut, the Foo Fighters have weathered personal differences, a demanding touring schedule and health issues to become one of the world's most successful hard rock bands. Foo Fighters: Back and Forth is a documentary about the band in which Grohl and his bandmates talk about the band's history, perform some of their best-known songs for a sold-out audience, and work in Grohl's makeshift home studio with producer Butch Vig to record their seventh studio album, Wasting Light. Foo Fighters: Back and Forth received its world premiere at the 2011 South by Southwest Film Festival. ~ Mark Deming, Rovi
Critic Reviews for Foo Fighters: Back and Forth
All Critics (3) | Top Critics (1) | Fresh (2) | Rotten (1)
Unfortunately... Foo Fighters: Back And Forth settles into a rather mundane laundry list-like recounting of each album's creation and the band's achievements.
Music docu shows realities of band life; cursing and drugs.
Audience Reviews for Foo Fighters: Back and Forth
½
They're a little over 15 years old, all alive, and already Foo Fighters has their own documentary, which I reckon is alright, because Dave Grohl himself said that he didn't want to wait until the band had enough material to make another "Runnin' Down a Dream", and I subscribe to that feeling, because as good as "Runnin' Down a Dream" is, four hours of Tom Petty is a bit easier of a challenge to take on than four hours of Foo Fighters, even though I would have loved it if they had titled that film "Everlong". Speaking of perfect timing and titles, it's ironic how Foo Fighters have enough integrity to avoid gimmick, but their music is still mediocre, and this documentary about them is decent, but kind of gimmicky, because as if it's not obvious enough that they released this film almost specifically to coincide with "Wasting Light", the title is actually lifted from one of the album's tracks. Well, in all fairness, not a whole lot of people remember "Back & Forth", or at least I don't think they do (It's kind of hard to distinguish one of their songs from the others), so if they really wanted a shameless promoter of a film title, then they could have called this film "Learning to Walk", and if they wanted to borrow a title from one of their classic hits, then it would have been perfect if they had gone with... "Learn to Fly". Hey, I'm not saying that Foo Fighters' songs run together, but back in 1999, they were learning to fly, and thirteen years later, they're learning to walk again, which isn't to say that they're starting over, like I kind of wish they would. Forget flying, or walking, or whatever, these boys need to be focusing on learning how to make better music, because I kind of like them, even if they are foul-mouthed, slightly angry and flawed artists who do the ever-crippling condition of the rock industry they try so desperately to ameliorate few favors. ...Shoot, I kind of miss hippies, but these folks are nice enough for me to put some investment in, and it doesn't hurt that this documentary about them is an interesting one. Still, while the film keeps you going, even if you're, like me, not a Foo Fighters fan (Hey, at least they're better than Grohl's other super-influential alternative rock band), much like the band it focuses on, it has its problematic areas. I opened the, um, opener joking about Dave Grohl's actually coming out and stating that he wanted to go ahead and get the band's story out there before they ended up with so much material that they would have to resort to a four-hour documentary epic in the style of the "Runnin' Down a Dream" documentary that Grohl is actually... somewhere in, but really, while 100 minutes of Foo Fighters is indeed more-or-less my limit, this documentary shows that less isn't always more, as it occasionally picks up too much momentum and finds itself dashing along and taking only so much time to meditate upon the material it's delivering. It's nice that the film is tight and all, but if you blink, you're bound to miss something that could potentially either be major, or, well, an inspiration for a case of déjà vu, for although the film is too tight for its own good in a lot of ways, it also gets kind of carried away in others. There are occasions in which the film feels as though it's forcing in filler to run the clock out or create a momentary slow-down in the unraveling of Foo Fighters' tale, and even more occasions in which the documentary breaks up the hurrying with drawn out meditations upon material that, before too long, devolve into repetition. Pacing gets to be inconsistent in this documentary, and that hazes a sense of direction on more than a few occasions that this film can't really afford to have, because if momentum slows down too much, then it really gets to be difficult to ignore the lack of originality and limitations in intrigue within this documentary's storytelling. Like I said, Foo Fighters has only been around for less than 20 years, and everyone is alive and well, so while there is plenty that's interesting here, there's just not a whole lot to talk about, and even less material that's truly original, as the band's story is a formulaic one, or at least appears to be that way, seeing as how this is a formulaic rockumentary. There's plenty of entertainment and engagement value to the final product, so much so that it comes close to all-out rewarding, but overall, it's an unevenly paced and consistently formulaic meditation upon a story that has only so much meat, thus leaving it to collapse as kind of forgettable. Still, while the film has your attention, it holds it with a generally fine bit of firmness, loosening its grip a bit too much for you to be truly engrossed, but nevertheless keeping things lively and, in plenty of ways, kind of immersive. I would have dug more backstage analyses of the personal lives and creative process of Foo Fighters that weren't just in the form of stills, but the footage provided, as well as the aforementioned somewhat more insightful photographs and stills, add an adequate degree of dynamicity to this still sometimes repetitious documentary, and their clever presentation - whether it be through neat editing or through a type of narrative structure that gives you a sense of progression - further livens things up. Whether when he's playing with footage in an immersive fashion or playing a soundtrack that is, of course, kind of mediocre (Again, I'm not Foo Fan), but consistently with some kind of energetic punch, director James Moll stylishly and thoroughly sustains entertainment value, while giving you a firm grip on the evolution of this story that is conceptually so minimalist that it does indeed need a lively delivery, both in an atmospheric sense and, of course in a verbal sense. Storytelling is pretty much entirely driven by interviews with the members and associates of Foo Fighters, and sure, there are moments of awkward confusion within delivery of material by the interviewees, - especially when they struggle to paraphrase quotes from the peers who are also being interviewed, as they too often do - but on the whole, the interviews conducted for this film are very humbling, with each interviewee distinguishing himself with a specific type of down-to-earth, sometimes downright funny charisma that gives you both an understanding of the band's chemistry and an intimate feel for the musicians as very human people with an artistic integrity that I feel is being misused to produce art that is way below their potential, but still stands as no less real. Faced with these interviews, fans will undoubtedly be delighted to find relatable aspects within the musicians they know and love, and non-fans like me will gain more of an appreciation, not necessarily for the Foo Fighters' music, but for the Foo Fighters themselves, and such appreciation is bound to grow because of what exactly is being said in the humbling interviews. Again, there's not a whole lot of meat to Foo Fighters' relatively young and familiar story, but there's still plenty of intriguing material within the band's tale of evolution from an accumulation of the ashes of other distinguished bands of the '90s into a major musical force that earns its own celebration, and while the momentum of this delivery of such material gets uneven at times, this documentary is generally tight in its providing insight into the rise of one of biggest mainstream forces of modern rock. There are enough layers to Foo Fighters' story for you to get invested, even if you don't even like the band's material, and such an investment is very often reinforced by the inspiration within James Moll's direction, which not only keeps liveliness sustained through the aforementioned stylish delivery of footage and whatnot, but really plays up the heart of this story and creates a certain resonance that further compels and drives the final product a long way. Sure, as far as the engagement value of the final product goes, this documentary doesn't quite make the cross over into rewarding that it could have, and would have if it was tighter, meatier and more refreshing, but the fact of the matter is that there is a lot to like about this study on a band I'm not even particularly fond of (Okay, fine... they do have "some" songs I like, because a band with integrity can make fall-flat music for only so long before they fluke), so much so that the film comes close to rewarding, and decidedly stands as thoroughly entertaining. Bottom line, pacing unevenness goes bookended by hurried spells and repetitiously dragged out spells that leave you to meditate upon the limitations of meat and originality within this documentary, which is left to fall short of rewarding, yet still goes reasonably well-powered by insightful and often stylishly presented footage, thoroughly charming interviews, a plenty of interesting material whose directorial presentation by James Moll is lively and compelling enough for "Foo Fighters: Back and Forth" to stand as an entertaining and humbling study on the rise of one of modern rock's biggest forces, in spite of its fair deal of shortcomings. 2.75/5 - Decent
Cameron Johnson
Super Reviewer
Foo Fighters: Back and Forth is basically a "behind the music" style documentary about the Foo Fighters. It chronicles from Dave Grohls days with Nirvana all the way to the Fighter's 7th album, Wasting Light. I am a big fan of theirs, so a lot of their story I knew, but there was quite a few things I had never heard and found fascinating. The band has been through quite a bit, and remain the best current rock band going today. If your not a rock fan, or a fan of Foo Fighters then A) you have bad taste in music, and B) just watch a country music movie. But if your like me, then you should most definitely check this out.
Everett Johnson
Super Reviewer
This documentary takes you through the history of one of the greatest rock bands of our time, from the sudden death of Nirvana to the recording of the 2011 album "Wasting light". It's touching, funny, honest. And it shows two things: a) Dave Grohl, the nicest guy in rock'n roll can be an asshole too, if he has to. But he also has the greatness to show that in the film. and b) it's unbelievable how many great songs the Foo Fighters have written over the course of the last 15 years. Highly recommended.
Foo Fighters: Back and Forth Quotes
There are no approved quotes yet for this movie.