Food, Inc.
(2009)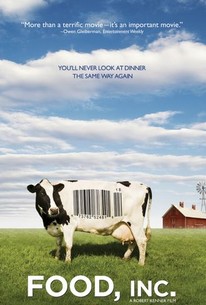 TOMATOMETER
AUDIENCE SCORE
Critic Consensus: An eye-opening expose of the modern food industry, Food, Inc. is both fascinating and terrifying, and essential viewing for any health-conscious citizen.
Movie Info
In "Food, Inc.," filmmaker Robert Kenner lifts the veil on our nation's food industry, exposing the highly mechanized underbelly that's been hidden from the American consumer with the consent of our government's regulatory agencies, USDA and FDA. Our nation's food supply is now controlled by a handful of corporations that often put profit ahead of consumer health, the livelihood of the American farmer, the safety of workers and our own environment. We have bigger-breasted chickens, the perfect pork chop, insecticide-resistant soybean seeds, even tomatoes that won't go bad, but we also have new strains of e coli--the harmful bacteria that cause illness for an estimated 73,000 Americans annually. We are riddled with widespread obesity, particularly among children, and an epidemic level of diabetes among adults Featuring interviews with such experts as Eric Schlosser (Fast Food Nation), Michael Pollan (The Omnivore's Dilemma) along with forward thinking social entrepreneurs like Stonyfield Farms' Gary Hirschberg and Polyface Farms' Joe Salatin, "Food, Inc." reveals surprising--and often shocking truths--about what we eat, how it's produced, who we have become as a nation and where we are going from here.
Critic Reviews for Food, Inc.
Audience Reviews for Food, Inc.
½
We are what we eat, and this is an informative documentary that exposes some disturbing - yet not exactly unknown - truths about the food industry in the USA and shows how vital it is for people to start consuming natural/organic products in order to live healthy lives.
Carlos Magalhães
Super Reviewer
A well constructed argument that criticises the food industry for its methods and the government for its lack of oversight. Prepare for jarring images of animal cruelty. What's ignored in the whole proposal is the obvious population explosion and concurrent rise in affluence of millions, affording them the luxury of eating what they choose (and, as the film itself points out, they make the wrong choice ). And so a passionate, if incomplete, presentation. If you're reading this you probably already know where you stand on this issue. Where is the doc that takes on the consequences of feeding the population explosion is what I wanna know.
Kevin M. Williams
Super Reviewer
In this documentary on the american food industry, you get an inside view at where your food comes from. Seeing what Monsanto does to the farmers, what IBP is doing to the cattle, and what Tyson is doing to the chickens, you may never eat again. I know most people would just say that they can't live without their meat, and it doesn't bother them where it comes from, or what's in it. Being a vegetarian, this film opened my eyes to the prospect that even my organic produce may be full of harmful chemicals. Some of my classmates went vegetarian for life after seeing this disturbing, deeply affecting documentary. It's an important one to see. Watch it!
Raymond Wieser
Super Reviewer
Food, Inc. Quotes
There are no approved quotes yet for this movie.