Foolish Wives
(1922)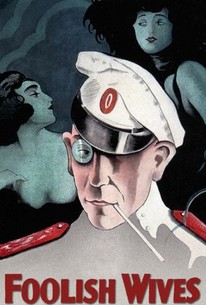 Movie Info
Actor/ writer/ director Erich Von Stroheim stars as a fraudulent count, living high on the hog in Monte Carlo. He supports himself by extorting huge sums of money from silly married ladies who are dumb enough to fall for his romantic charms. Von Stroheim's partners in crime, phony princesses Mae Busch and Maud George, live in a state of perpetual depravity with the count in a huge mansion. Their latest victim, played by an actress who insisted upon being billed as Miss DuPont, is the wife of an American financier. Von Stroheim's attempted seduction of this particular foolish wife is thwarted at every turn, and the count ultimately gets his comeuppance.
Critic Reviews for Foolish Wives
Audience Reviews for Foolish Wives
This drama was a third feature silent film written and directed by Erich von Stroheim. Although uncredited, Irving Thalberg, aged 22, was in charge of production. Thalberg would later become one of the most famous studio heads of all time. The drama features von Stroheim, Rudolph Christians, Miss DuPont and Maude George. When released in 1922, the film was the most expensive film made at that time, and billed by Universal Studios as the "first million-dollar movie" to come out of Hollywood. Originally, von Stroheim intended the film to run anywhere between 6 and 10 hours, and be shown over two evenings, but Universal executives opposed this idea. The studio bosses cut the film drastically before the release date. In 2008, Foolish Wives was selected for preservation in the United States National Film Registry by the Library of Congress as being "culturally, historically, or aesthetically significant", and luckily I had a chance to see a new version, not the one which is widely distributed over 40 years! Originally the version had 21 reels when it was completed. Studio made a version of seven reels only. The copy I had was assembled for The American Film Institute by Arthur Lennig, and represents an attempt to reconstruct the film to a more authentic version. The original titles have been restored and much of the footage eliminated over the years has been replaced. Although still fragmentary, this is the most complete form in which this film is known to exist today. Length of this footage is 2h 23 min. This outstanding silent drama tells the story of a man who names himself Count Wladislaw Sergius Karamzin (von Stroheim) in order to seduce rich women and extort money from them. He has set up his base in Monte Carlo and his partners in crime (and possible lovers) are his "cousins": faux-Princess Vera Petchnikoff (Busch) and faux-Her Highness Olga Petchnikoff (George). Count Karamzin begins his latest scam on the young and attractive wife of the middle aged American envoy, Helen Hughes (Miss Dupont), even though her husband is nearby. The film began director von Stroheim's reputation as a "manic perfectionist," a huge spender, and as a director that needed to be brought under control. During filming, the cost of the film soared. While the budget was slated at $250,000, according to von Stroheim, it ended at $750,000. At the end, Universal Studio, estimated the cost at $1,225,000. During the production, Carl Laemmle, the head of Universal, appointed 20-year-old Irving Thalberg as head of the studio. Right away the new studio chief started clashing with von Stroheim, whom he considered a spendthrift. Actor Rudolph Christians died on February 7, 1921 from pneumonia during production, and his part was taken over by Robert Edeson. Edeson only showed his back to the camera so as not to clash with shot footage of Christians that was still to be used in the completed film, but it was noticeable because their hair colour was completely different, and for me that was the only annoying part. The start of the movie is with the perfect iris shot, and this is no ordinary 'fade into' effect, but an entrancing reinforcement of the sinister, insular and constrictive nature of the milieu Von Stroheim is about to introduce us to... If you love details, villains which could be a part of everyday life, lavish lifestyle, and you are ready to see the egotism of a genius running amok (that made him prominently feature a character reading a novel called Foolish Wives, credited to Erich Von Stroheim) - find this extended copy, and have fun!
An okay con artist woman seducer type movie. And director von Stroheim plays the leading role too. The biggest problem is that it's way too long. That really annoyed me, it didn't need to be over 2 hours. The costumes and sets are realistic, though, and it was interesting to read that von Stroheim insisted on not using anything fake.
½
the first million dollar film in hollywood history and every bit of it is up there on the screen. von stroheim insisted on real champagne and caviar and french underthings for the ladies so as to feel more like true aristocrats. the monte carlo set built on a studio backlot is just incredible. all this goes a long way toward explaining his aborted directing career. editing from 6 hrs down to 2.5 caused some pacing issues i think but, spread over 2 nights, this was an amazing experience. now i want to find a coherent version of greed! all hail the mad genius
Stella Dallas
Super Reviewer
Foolish Wives Quotes
There are no approved quotes yet for this movie.