Fools Rush In
(1997)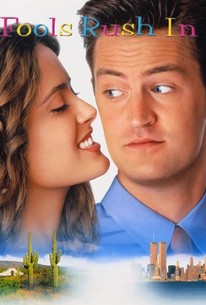 Movie Info
Two relative strangers try to turn a one night stand into a marriage in this romantic comedy. Alex Whitman (Matthew Perry) is a designer from New York City who is sent to Las Vegas to supervise the construction of a nightclub that his firm has been hired to build. Alex is a straight-laced WASP-ish type who, while enjoying a night on the town, meets Isabel Fuentes (Salma Hayek), a free-spirited Mexican-American photographer. Alex and Isabel are overtaken by lust at first sight and end up spending the night together; however, their immediate attraction doesn't last in the cold light of day, and they don't see each other for another three months. When they do meet again, it's because Isabel has some interesting news for Alex: she's pregnant with his child. Alex and Isabel decide that they should do the right thing and quickly get married (with an Elvis impersonator serving as witness), but after Isabel meets Alex's mom (Jill Clayburgh), and Alex is confronted by Isabel's father (Tomas Milian), both start to wonder if "doing the right thing" was just that, especially as Alex tries to balance his career in New York with Isabel's desire to continue working in Nevada. Fools Rush In gave Matthew Perry his first big-screen starring role following his success on the TV series Friends.
Critic Reviews for Fools Rush In
Audience Reviews for Fools Rush In
"You will never know love unless you surrender to it". My main reason for renting this movie was because I started to watch Friends and Matthew Perry was hilarious in it so I decided to get this, and you know what I was ABSOLUTELY, POSITIVELY not dissapointed. You know it was still the same type of movie Matthew Perry would do but at the same time this movie was funny but a touching love story. Matthew Perry will forever be my fave, and he always will be! :) Salma Hayek is a good actress herself too.
Cassie Hill
Super Reviewer
hated it thought it was boring and pointless
Film Crazy
Super Reviewer