Footlight Parade
(1933)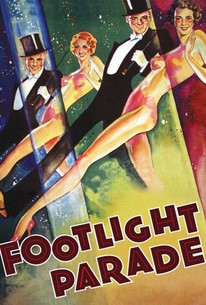 Movie Info
The last--and to some aficionados, the best--of choreographer Busby Berkeley's three Warner Bros. efforts of 1933, Footlight Parade stars James Cagney as a Broadway musical comedy producer. Cagney is unceremoniously put out of business when talking pictures arrive. To keep his head above water, Jimmy hits upon a swell idea: he'll stage musical "prologues" for movie theatres, then ship them out to the various picture palaces in New York. Halfway through the picture, Cagney is obliged to assemble three mammoth prologues and present them back-to-back in three different theatres. There are all sorts of backstage intrigues, not the least of which concerns the predatory hijinks of gold-digger Claire Dodd and the covetous misbehavior of Cagney's ex-wife Renee Whitney. Joan Blondell plays Jimmy's faithful girl-friday, who loves him from afar; Ruby Keeler is the secretary who takes off her glasses and is instantly transformed into a glamorous stage star; Dick Powell is the "protege" of wealthy Ruth Donnelly, who makes good despite this handicap; Frank McHugh is Cagney's assistant, who spends all his time moaning "It'll never work"; and Hugh Herbert is a self-righteous censor, who ends up in a censurable position. The last half-hour of Footlight Parade is a nonstop display of Busby Berkeley at his most spectacular: the three big production numbers, all written by Harry Warren and Al Dubin, are "By a Waterfall", "Honeymoon Hotel", and "Shanghai Lil", the latter featuring some delicious pre-code scatology, a tap-dance duet by Cagney and Keeler, and an out-of-left-field climactic salute to FDR and the NRA!
Critic Reviews for Footlight Parade
Audience Reviews for Footlight Parade
½
This is a fantastic film that saves its best for last. It starts off as a good Cagney-Blondell pairing, with him playing a theater producer whose job is in trouble with the advent of "talkies", and her playing his hardworking, intelligent secretary. It ends with a couple of absolutely STUNNING musical numbers choreographed by Busby Berkeley - 'By a Waterfall' and 'Shanghai Lil'. The sets are spectacular, as are the visual effects Berkeley creates with overhead camera shots - just have a look on youtube. Cagney is a delight to watch in his film, which has him in a role different from his usual gangster typecasting. He's marvelously light on his feet, both when he shows performers how it's done early in the movie, and then later when he 'fills in' for a guy who has had too much to drink to perform 'Shanghai Lil', which is set in a Chinese den of iniquity. The banter and comedy throughout the movie keeps it entertaining, with the exception of Hugh Herbert, who's in a whiny, annoying role. There's also lots of 1933 eye candy here, with dancer's legs, skimpy outfits, and bathing suits abounding, helped along by the movie being pre-Code. Related to that and as a small side note, I thought it was funny to see Claire Dodd, wide-eyed, reading a book called "Naughty Stories" with a vamp on the cover. As for the other leads, Dick Powell is not my favorite but he's passable, and Ruby Keeler is a joy, playing a cute secretary who transforms into a performer. There are some cringe-inducing moments, including Keeler as an Asian woman during 'Shanghai Lil, singing some broken English lyrics which may make you think of the cliché 'me love you long time' (one of the actual lines: "I miss you very much, a long time, I think that you no love me still"). Earlier in the film, Cagney will brainstorm for themes in his musicals and hit upon one with "African slaves" (after other wacky ideas, e.g. "Frankenstein"), and later, after seeing a bunch of African-American kids playing in the water from a fire hydrant, he'll quip "That's what [we] need - a modern waterfall splashing on beautiful white bodies." You have to forgive the film for those transgressions, which are relatively small for the time period. Overall - very entertaining and an absolute blast in some places, with Cagney and Berkeley turning in outstanding work. Great film.
Antonius Block
Super Reviewer
fun and funny musical with cagney and dick powell. mindblowing busby berkeley numbers in the second half. the last one includes an opium den. also i think joan blondell called claire dodd a bitch :O
Stella Dallas
Super Reviewer
Everybody is full of boundless energy and the musical numbers are truly awesome.
Footlight Parade Quotes
There are no approved quotes yet for this movie.