Footsteps in the Dark
(1941)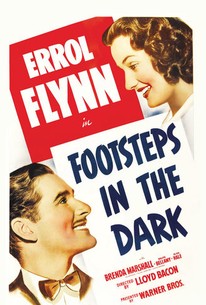 AUDIENCE SCORE
Critic Consensus: No consensus yet.
Footsteps in the Dark Photos
Movie Info
Footsteps in the Dark is a comedy/mystery, starring Errol Flynn as a wealthy investment counselor who secretly doubles as a dilettante detective, the better to write mystery novels. Brenda Marshall plays his wife, who can't understand why he is never home and begins to suspect hanky-panky. In fact, Flynn is investigating the murders of a jewelry smuggler and an exotic dancer. The trail of evidence leads to the Least Likely Suspect -- portrayed, as is often the case, by an actor who's always the one who "did it" in murder mysteries. Not nearly as funny a film as the producers seem to think it is, Footsteps in the Dark is an obvious attempt by Warner Bros. to create a "Nick and Nora Charles" team, in emulation of MGM's popular Thin Man series. Footsteps ends with wife Marshall vowing to join hubby Flynn in his next murder mystery, leaving the door wide open for a sequel...which was never filmed.
Critic Reviews for Footsteps in the Dark
Audience Reviews for Footsteps in the Dark
Errol has a good time in this light hearted(and headed) mystery. Nothing special but breezy with what seems to be the entire Warners stock company along for the ride.
Footsteps in the Dark Quotes
There are no approved quotes yet for this movie.