För Att Inte Tala Om Alla Dessa Kvinnor (All These Women) (Now About These Women)
(1964)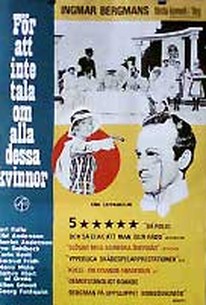 För Att Inte Tala Om Alla Dessa Kvinnor (All These Women) (Now About These Women) Photos
Movie Info
What is so rare, and cherishable, as an Ingmar Bergman comedy? All These Women concerns the sexual misadventures of cello-playing Jarl Kulle. Amidst his many romantic pursuits, the egotistical Kulle endeavors to get his life story published, "bribing" a writer by agreeing to perform the latter's musical compositions. Bergman regulars Eva Dahlbeck, Harriet Andersson and Bibi Andersson costar in All These Women, while the screenplay was cowritten by another stalwart member of the director's stock company, Erland Josephson. Originally titled For Att Inte Talla om alla dessa Kvindor, All These Women is better known in English-speaking countries as Now About All These Women. ~ Hal Erickson, Rovi
Critic Reviews for För Att Inte Tala Om Alla Dessa Kvinnor (All These Women) (Now About These Women)
Audience Reviews for För Att Inte Tala Om Alla Dessa Kvinnor (All These Women) (Now About These Women)
½
A pretty bad miss from Bergman. It's somewhat interesting to see him try his hand at a goofy comedy that doesn't take itself seriously and pokes at fame self-referentially, but he fails miserably. Said to be a parody of Fellini's 8 1/2, the film may remind you more of the early Woody Allen films to come, with zany music jazzing up scenes in fast motion, attempts at slapstick, and actors breaking the fourth wall. Unfortunately, it's awkward and not funny in the slightest. The film is also rather ugly, with simple sets, fading color, and 'bawdy' scenes shot so poorly they're unappealing. You can read allegory into the artist who gets lost amidst everything surrounding him, as indeed we never see the face of the master cellist. Instead we see his mansion and all of the zaniness that takes place in it, the women who surround him and fight over him, and a critic who wishes to write his biography and pressures him to use his arrangements. The critic warms him that one day he will be forgotten, as another will come along. That's the main point of this farce, but it's too buried in silliness. I revere Bergman but have to call this for what it is, awful. If you want to watch a 'lighter' Bergman movie, I would recommend "A Lesson in Love" (1954) instead, which was excellent.
Antonius Block
Super Reviewer
Those who need to believe Ingmar Bergman was an irreproachable genius are advised to skip this horrifying turkey. A misfired sex farce, "All These Women" begins with the funeral of renowned cellist "Felix," then flashbacks to follow a prissy, pretentious music critic (portrayed in insufferably hammy fashion) who is staying at Felix's elegant estate. He's supposed to be preparing a biography, but he can't assemble his desired "personal details" because Felix avoids ever meeting him. Instead the reclusive musician's staff and multiple lovers (who also live in the mansion) just tease and distract the poor fool. The humor is as broad as anything found in Mel Brooks and early Woody Allen, with the antics including crossdressing, silly gun chases, title cards, smirking looks into the camera and incessant abuse of "Yes, We Have No Bananas," and the only positive is Bibi Andersson's girlish beauty. And anyway, it's hard to enjoy a comedy that's so obviously built on a sour grudge against professional critics. "All These Women" was Bergman's first color work, but the existing print looks washed out and is full of ugly green streaks and spots. For completists only!
Eric Broome
Super Reviewer
½
Some were disappointed by Bergman directing a wacky comedy. I guess they expected him to just do the same thing over and over again, but then he wouldn't be Bergman. No deep messages, but quite a few laughs. My favorite gag: a dance as a symbolic sexually encounter. Well worth seeing.
Anthony Valletta
Super Reviewer
För Att Inte Tala Om Alla Dessa Kvinnor (All These Women) (Now About These Women) Quotes
There are no approved quotes yet for this movie.