For Ellen
(2012)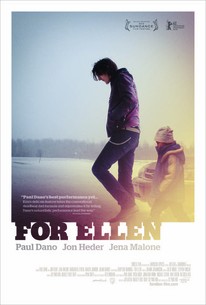 Movie Info
Aspiring rock star Joby Taylor (Paul Dano) has wanted nothing more than to "make it", having flirted with fame but never crossed over into true success. In the midst of a low period in his life, he agrees to sign divorce papers with his estranged wife (Margarita Levieva) in order to see money from the sale of their home, only to discover that by signing the papers, he will forfeit all custody of his six-year-old daughter, Ellen (Shaylena Mandigo). With a good-natured lawyer (Jon Heder) unable to make headway in reversing the decision, and a girlfriend (Jena Malone) that represents an era of his life that he might be ready to graduate from, Joby negotiates a visit with his daughter to explore whether he is able to walk away from his child, and whether it might be too late for reconciliation. -- (C) Tribeca
Critic Reviews for For Ellen
Audience Reviews for For Ellen
½
Touching yet sad story of a dad trying to do right by his daughter. The film draws alot from Just pure emotion. You have to pay attention as there is not much dialogue.
Jarrin Rozenblad
Super Reviewer
½
"For Ellen" starts with Joby(Paul Dano), a musician, driving into a snow bank when he eats and drives one morning. He is in the middle of nowhere to finalize the divorce with his estranged wife Claire(Margarita Levieva) but then balks at the fine print. At least, in the meantime, he gets an invitation for home cooked lasagna. Ever since the invention of drama, it has been debated whether or not there could be an excellent performance in a lackluster play or movie. Well, I would like to submit the dramatically uneven "For Ellen" as exhibit A. Again, Paul Dano proves he is one of the best actors of his generation, fully embodying his character. But sadly, Joby is the only show here, as the camera cannot leave him alone for a minute, unlike other characters, thus not allowing for any meaningful perspective on the situation. For example, I would have especially liked to have seen events also from Claire's point of view. That's not to mention a perplexing ending which only serves to muddle the movie's message.
½
"For Ellen is a sad movie. Joby Taylor has always wanted fame, but has little of it. He left behind a wife and child trying to achieve it. When his estranged wife wants a divorce, Joby agrees to sign the papers thinking he will get half of the money from the sale of their home and shared custody of their daughter, Ellen. Joby is unaware of the final print in his divorce which states that since he will receive half of the homes sale money he will therefore sign over all rights over to his wife. Although I am no fan of absent father's, I did feel a little bad for Joby and sad for his daughter, Ellen. Joby's lawyer, Fred, tries to find a way for Joby to have shared custody, but is unable to. Joby talks his way into spending time with Ellen for the first and last time. Very bittersweet. Paul Danno is amazing as always. He really does give one of his better performances. The weight of the film is all on his performance for he is alone most of the time. All of the other actors play minor roles. It's not a film I would probably see again though. It's depressing."
♥˩ƳИИ ƜѲѲƉƧ♥
Super Reviewer
For Ellen Quotes
| | |
| --- | --- |
| John Taylor: | We wanted to make it so bad. |
| Ellen Taylor: | Have you made it? |
| | |
| --- | --- |
| John Taylor: | You don't talk to me that way! |
| John Taylor: | Hello? |