For Keeps
(1988)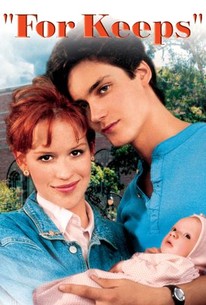 Movie Info
A high-school student's plans for the future undergo a serious change when she discovers that she is pregnant in this comedy-drama. She and her young boyfriend choose to get married and raise the child themselves, but they find teen-age parenthood much more of a challenge than they anticipated.
News & Interviews for For Keeps
Critic Reviews for For Keeps
Audience Reviews for For Keeps
After the relatively demanding "Cracks", I felt like a nice movie, something comforting from the past... and this one fit the mood well. It's surprising that I would like a "baby" movie, I guess, but this one got me quite young. I still say it has the worst beginning to a movie ever, though, I was eating while I was watching this one tonight, and it nearly made me sick! Another thing I like about this, is even though it has the required happy ending, it's not sugar coated or overly sentimental. This young couple hit every obstacle going - teen pregnancy. poverty, no support from family, post natal depression and the overall strain of being a young married couple with a baby. Though it is romantic in a way, the situation sure isn't. Molly Ringwald is wonderful here. I always think she is wonderful, I have loved her since Pretty in Pink, but she really is outstanding here as Darcy. Beautiful, smart, if it wasn't for the whole pregnancy bit, what young girl would't want to be her?! Randall Batinkoff is also nice as Stan. I am surprised this movie was not more popular at the time. I guess now it is a little dated, if you did not grow up with it as I did, but for anyone who likes a good 80's teen movie, can't really go past this. I guess it's a sign of my age that finally I can really relate to Mrs Elliot in this too. I never really thought about her, past being Darcy's mum, but on rewatch, I actually found her quite moving, as I realised her fear was coming from things that happened to her. Scary.
Nicki Marie
Super Reviewer
Ringwald plays a pregnant teen graduating from high school. The story is good, as are the actors. I really liked this movie, and if you're a fan of hers too, you'll enjoy it.
I was surprised with this old flick, haven't actually seen it before but its really good, really sweet and touching. I thought it would be a boring sickening story as we follow two kids in love, getting pregnant, breaking up etc..but its pretty engaging and keeps you interested, I think the 80's charm has alot to do with that :) Molly Ringwald being the teen queen of the era. Some nice lines raise afew smiles here and there and the whole look and feel is just right, you can relate to the story, that's the important thing.
Phil Hubbs
Super Reviewer
For Keeps Quotes
There are no approved quotes yet for this movie.