For Love of the Game
(1999)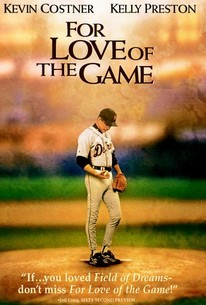 For Love of the Game Photos
Movie Info
This film takes a provocative look into the professional and personal passions of Billy Chapel, a legendary baseball pitcher nearing the end of his career who is forced to re-examine his priorities when confronted with unexpected circumstances: Not only is he about to be traded after 20 years with the same team, but the woman he has been with for several years, Jane Aubrey, is leaving him. In the midst of pitching a perfect game against the New York Yankees, Chapel, who has been the heart and soul of the Detroit Tigers, thinks back upon his long career and his tempestuous relationship with Jane. Aware that the stakes in his life have increased dramatically, the veteran ballplayer knows that he has some serious decisions to make by the bottom of the ninth inning.
Critic Reviews for For Love of the Game
Audience Reviews for For Love of the Game
Vin Scully: The cathedral that is Yankee Stadium belongs to a Chapel. "Billy Chapel must choose between the woman he loves or the game he lives for." For Love of the Game is a movie that I thoroughly enjoyed. It's sort of weird that it has taken me this long to get to it. I love baseball and I really like Costner because of his love for two of my loves, movies and baseball. This may not be the best baseball themed movie he's starred in, but it's another great one. There's passion in it and in the end it is a really worthwhile, heartfelt, and inspiring film. Billy Chapel is an aging pitcher for the Detroit Tigers; he's forty to be exact. He was drafted right out of high school at the age of 18 and he quickly became one of the best pitchers in the game, and a sure fire hall of famer. Now with his career coming to close, he finds himself in New York and he's getting the start. The day of the game he finds out two pieces of bad news, firstly the owner of the Tigers, whom Chapel has been extremely close to for years is selling the team and the buyers plan on trading Chapel after the season. Secondly, Chapel's girl, who has been casually seeing for years is leaving for a job in London. When Chapel takes the hill for the game, he begins flirting with a perfect game, as a he flashes back to his relationship with the girl he loves. The movie can come off as somewhat corny at times, but for the most part it seems honest and real. It's hard to describe exactly how this movie made me feel throughout, but there was a lot of emotion that came with the story and the backstory. I loved the way the flashbacks were used throughout the game and I loved the raw emotion of the character that is Billy Chapel and how Costner brought that character to life. This is one that all baseball fans and fans of baseball movies need to see. It's not the best of the genre, but it is still a far above average addition. It's powerful at times, funny at times, sad at times, and fun at times. The movie is a roller coaster of different emotions and it all ends up working pretty well together.
Melvin White
Super Reviewer
Billy Chapel must choose between the woman he loves and the game he lives for. Saw it again! Absolutely love this movie. Kevin Costner and Kelly Preston dazzle completely. The story is quite good and entertaining. Sports movies like this one I could watch every day. Baseball great Billy Chapel, 40, wants nothing more than to reconnect with his one-time lover, Jane Aubrey. On the morning he's to pitch the last game of the season, she tells him she's leaving that evening for a job in London; he also learns that the Detroit Tigers' new owners plan to trade him. As he pitches that night, he must decide whether to accept the trade or quit the game he loves, and between innings, he recalls meeting Jane, their first date, happy times, miscommunication, and what may be a final break. Meanwhile, with Vin Scully announcing, one Yankee batter after another fails to reach first base. Can Billy pitch a perfect game, and if so, what does it matter if he loses Jane?
Billy Chapel (Kevin Costner) is an aging major league pitcher for the Detroit Tigers. Billy does everything he can to be the best at the only thing he really cares about....baseball. However, Billy lucks up and finds a great woman named Jane (Kelly Preston). Will Billy find someone that he really really cares a lot about with Jane, or will America's favorite pastime, baseball, still be the only thing that Billy Chapel will fight for? I recommend watching the movie to find out. "Field of Dreams" is one of my favorite movies of all time. I know that just about everybody's question will be "Is For Love of the Game as great as Field of Dreams?" after they see that this is a baseball movie and that Kevin Costner is the movie's main star. In my opinion, they're both great movies and they're two of the best sports movies ever made, but I didn't think that "For Love of the Game" is quite as good as "Field of Dreams" is. This movie has its spectacular times such as when Billy is giving it all he's got to try and get a perfect game. The love interest between Billy and Jane is also interesting and well done. I think the only reason that I didn't think it was as good as "Field of Dreams" is because "Field of Dreams" was VERY original and it was unbelievably captivating. Whereas, "For Love of the Game" is a great movie, but it's not as original and not as captivating as "Field of Dreams." If you like great sports or baseball movies, and especially if you liked "Field of Dreams," I recommend getting "For Love of the Game." NOTE: That was my Amazon review from the year 2001. I was one of the thousands that were hyped to see this to see if it would be as good as "Field of Dreams", but no, not even in the same ballpark, or league.
Jason Owens
Super Reviewer
For Love of the Game Quotes
| | |
| --- | --- |
| Billy Chapel: | [repeated line] I can always tell when I'm in New York. |
| | |
| --- | --- |
| Gus Osinski: | The boys are all here for ya, we'll back you up, we'll be there, cause, Billy, we don't stink right now. We're the best team in baseball, right now, right this minute, because of you. You're the reason. We're not gonna screw that up, we're gonna be awesome for you right now. Just throw. |
| | |
| --- | --- |
| Jane Aubrey: | You ever gotten your heart broken? |
| Billy Chapel: | Yeah. When we lost the pennant in '87. |
| | |
| --- | --- |
| Billy Chapel: | [consoling Mickey Hart after an embarrasing play] There's a bunch of cameras out there right now waiting to make a joke of this, Mick. So you can either stop, give them the sound bite, do the dance. Or you can hold your head up and walk by, and the next time we're in Boston, we'll go out there and work the wall together. Don't help them make a joke out of you. |