For Whom the Bell Tolls
(1943)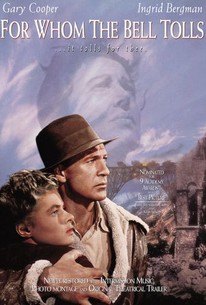 For Whom the Bell Tolls Photos
Movie Info
Based on the novel by Ernest Hemingway, this romantic drama is set against the turbulent tapestry of the Spanish Civil War. Gary Cooper plays Robert Jordan, an idealistic American fighting with a Spanish guerilla band. He is assigned to blow up a bridge in order to halt the enemy's progress.
Critic Reviews for For Whom the Bell Tolls
Audience Reviews for For Whom the Bell Tolls
Papa picked Coop and Bergman particularly to play his leads (no doubt as swept by Hollywood charisma as anyone) in his tale of an American abroad fighting for his beliefs. Its a good story, like Papa a bit in love with itself, and magnificent simply for the fact that Coop theoretically's the only Anglo around (there ain't many like that). The character player cast all shine. I loved this.
Kevin M. Williams
Super Reviewer
During the Spanish Civil War, an American mercenary works with a local group of fighters to blow up a bridge. I've written before that if there's a heaven, it must involve being loved by Natalie Wood. There's no reason not to add Ingrid Bergman to that list. Can you imagine both of them? It's hard enough to get one. Bergman and Gary Cooper maximize the small amount of time the story dedicates to their love affair, and they make what seems convenient believable. In typical Hemingway fashion, the story is about manhood and war but also love. And the group of people Cooper's character encounters are all round, interesting characters with complex backstories and intentions. Nobody is villainized, but it's nonetheless clear whom Hemingway respects. Cooper, whose reserved performance in Pride of the Yankees can't be underestimated, was, I thought, too reserved in this film, especially at the end. I think the film needed an emotional explosion, a last gasp for hope and love in spite of the degradation that surrounded him. Overall, this is a Hemingway story, so you know it's good, and the three hours goes by quickly.
Jim Hunter
Super Reviewer
Some solid performances can't compensate for the extreme overlength of this. An hour's editing could have made this a fine film but it just goes on and on, plus Cooper and Ingrid while individually fine have little chemistry.
For Whom the Bell Tolls Quotes