For Your Eyes Only
(1981)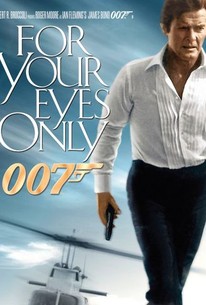 TOMATOMETER
AUDIENCE SCORE
Critic Consensus: For Your Eyes Only trades in some of the outlandish Bond staples for a more sober outing, and the result is a satisfying adventure, albeit without some of the bombastic thrills fans may be looking for.
For Your Eyes Only Photos
Movie Info
Roger Moore is back as Secret Agent 007, this time on the trail of shipwreck that holds an Automatic Targeting Attack Communicator (ATAC) for all of the British Naval submarine fleet. Along the way he teams up with the beautiful Melina, played by Carole Bouquet, a maiden out for revenge against a Cuban hitman who killed her father, the head of a British effort to salvage the ATAC. Turns out the hitman was in league with Greek businessman Aris Kristatos (Julian Glover). who's working for the Soviets to attain the Communicator. Together with a drug smuggling rival of Kristatos (played by Topol), Bond and Melina race against time before the keys to all of Britain's missles get in the wrong hands. Richard Maibaum's screenplay has very little to do with the collection of short stories that made up Ian Fleming's For Your Eyes Only, save for the plotline involving Melina's seeking vengeance for the death of her father. The direction is by John Glen, who'd previously done second unit work on other Bond films and went on to direct four more films in the franchise. For Your Eyes Only eschews the gimmickry and campiness of earlier Roger Moore efforts by concentrating instead on intrigue, save for the campy opening that sees Bond dispatch the dastardly Blofeld in a broad comedic pre-credits scene.
News & Interviews for For Your Eyes Only
Critic Reviews for For Your Eyes Only
Audience Reviews for For Your Eyes Only
½
Now I may be alone on this one, but "For Your Eyes Only" is easily one of the best bond films of the series. It is definitely the best film of the Roger Moore lead films. The action is cranked up to eleven here and the story does not really take slow turn. You are always on the edge of your seat and I cared about all of the characters involved. Roger Moore is great as a more serious bond in this picture and the villain really gives him a run for his money. When talking about a bond film, it really comes down to the actor portraying him, the action set pieces, and if the story is intriguing. Overall, "For Your Eyes Only" is a fantastic film!
½
For the twelfth installment of the James Bond franchise (and Roger Moore's fifth turn in the lead role), the decision was made to, (aside from the cold opening) return the series to a more grounded and series route with focus on intrigue over gimmickry. And the results are mostly pretty successful. What we have here is Bond being sent on a mission to infiltrate the Greek underworld in order to locate and recover a missile command system, a task that also sees him getting caught up in an interlinked revenge plot. Revenge is actually a main theme throughout, and I liked it. Our main Bond girl is on a quest to avenge the deaths of her parents, and the cold opening sees Bond get vengeance on longtime arch nemesis Blofeld for good, though, due to legal reasons, he isn't called that. It's still obvious that's who it is though. I did enjoy this film, but I will be honest and say that it is a tad slow and times, and that it often feels dragged out and longer than the running time suggests. I appreciated that they toned down the camp, but aside from a few decently staged action sequences (the diving and fortress assault scenes especially) this one isn't really all that memorable, and the main villain is also not all that noteworthy or memorable. All in all though, this is one of Moore's better films, and I'd place it in the upper middle of his era when it comes to rankings.
Chris Weber
Super Reviewer
½
excellent locations, but the villain, story, action, and bond girl were all very forgettable. the villain switch was very clever, but overall a very lackluster addition to the bond series.
For Your Eyes Only Quotes
| | |
| --- | --- |
| James Bond: | And have you? |
| Lisl: | Have I ever, [and kisses him.] |
| Lisl: | Have I ever. |
| | |
| --- | --- |
| Bibi: | Don't you like me? |
| James Bond: | I don't think your uncle Harry would approve. |
| Bibi: | That's a laugh. He thinks I'm still a virgin. |
| James Bond: | Well, put your clothes on. I'll buy you an ice cream. |
| | |
| --- | --- |
| Melina: | I didn't think it would end like this |
| James Bond: | We're not dead yet. |