The Forbidden Kingdom
(2008)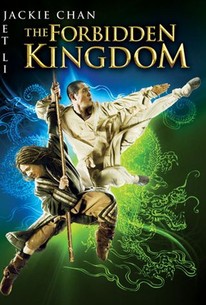 TOMATOMETER
AUDIENCE SCORE
Critic Consensus: This hotly-anticipated pairing of martial arts legends Jackie Chan and Jet Li features dazzling fight scenes but is weighed down by too much filler.
The Forbidden Kingdom Photos
Movie Info
Legendary martial arts stars Jackie Chan and Jet Li come together onscreen for the first time ever in director Rob Minkoff's time-traveling take on the Monkey King fable that finds an American teen transported back to ancient China after wandering into a pawn shop and discovering the king's fighting stick. Once there, the adventurous teen joins an army of fierce warriors who have sworn to free their imprisoned king at all costs. In addition to appearing as the mythical Monkey King, Li assumes the role of a silent monk, and Chan appears in the role of kung fu master Lu Yan. Famed action choreographer Yuen Woo Ping presides over the fight sequences. ~ Jason Buchanan, Rovi
Critic Reviews for The Forbidden Kingdom
Audience Reviews for The Forbidden Kingdom
½
An American kung fu movie geek is entrusted with an ancient staff which transports him to a magical world where the mystical kung fu characters of his movies are real. The Forbidden Kingdom is a throwback to the wish fulfilment fantasies of the 1980s, sharing a lot in common with the likes of The Karate Kid, Big Trouble In Little China and even Indiana Jones. Making the hero of the film an American will no doubt irritate many and he is certainly the least interesting character in the film, but he is for the most part a figure of fun in the same way as Jack Burton was in Big Trouble. Jet Li strikes up a great buddy partnership with Jackie Chan who revives his Drunken Master routine, and their face off is impressive as you'd expect. And having grown up on cheesy 70s TV show Monkey, I'd have to say that he makes a brilliant Monkey King; I'd go as far as to say that I'd love to see a film version with him in the role. I would have to say that it is inevitably very formulaic and Yefei Liu's superfluous character only seems to be there to make sure that there's an even distribution of hotties. As a whole it's a funny, exciting family friendly fantasy with a knockabout charm that is clearly pandering to the Pirates Of The Shaolin crowd. But it works. Corny in an almost pleasing way and probably the best thing Jackie Chan has done since he first started bending over for the Hollywood buck, hating this film for the "homogenization of Chinese culture" is basically like calling Mr. Miyagi an evil traitorous sell out. Completely missing the point.
There are kid movies, and then there are kid movies, and this is one of the good ones. Make no mistake, Jackie Chan and Jet Li are the reasons to see this (doh!), their choreographic dramas flights of sheer acrobatic fantasy. I was smiling despite my years of superior cynical removal, a kid again, wishing I could do that. There's bad writing, sure, and you will groan out loud at some. But most every conversation leads to a fight scene so ... Some magic.
Kevin M. Williams
Super Reviewer
Hmmmm the usual curious mystic Honk Kong phooey chop sockey spiritual action flick based in the Orient. What can I say...it looks lovely with beautiful green vistas and magical splashes of light and sorcery...but the story is the usual weird and wonderful mess which is kinda unoriginal and boring. Its the usual wizards, martial arts, magic and evil henchmen by the numbers haha The heroes (Jackie and Jet) train and make a martial arts expert outta of useless 80's lookin American kid who somehow travels to another world of mystic wizards and monkey kings and of course..manages to save it no worries, surprise surprise hehe. There's nothing special here a tall really, its all been seen before and is rather cliched. Chan and Li are good together for sure but they need to do something more original.
Phil Hubbs
Super Reviewer
The Forbidden Kingdom Quotes
| | |
| --- | --- |
| The Monkey King/the Silent Monk: | But do not name it my friend, for it's like water; nothing can overcome water, yet it can overcome rock. It does not fight; it moves around the opponent, boneless, nameless. The true master dwells within. Only you can be free. |
| | |
| --- | --- |
| Old Hop/Lu Yan: | Praying Mantis! Very good... for catching bugs! But not Tiger! |