Forbidden World (Mutant)
(1982)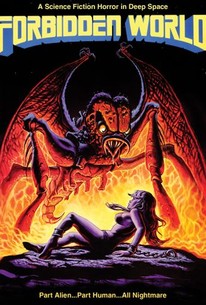 Forbidden World (Mutant) Photos
Movie Info
A horrible creature is discovered in the research labs on a far away planet by space explorers in this science fiction film. (AKA Forbidden World)
Critic Reviews for Forbidden World (Mutant)
Audience Reviews for Forbidden World (Mutant)
Clearly a rip off of Alien, Forbidden World is one of those obscured underrated gems that should be seen by fans of B movie flicks. This is a s sleazy as Roger Corman films go, bad acting, cheap sets and plot lifted from Ridley Scott's Alien and add to that a lot of blood and gore with nudity and you have a cult horror film you won't forget. Saying this about Forbidden World may seem like I'm stating its weakness. However, that's not the case. The film has a lot of charm that will surely appeal to fans of obscured horror cinema. Before watching this film, empty your mind and just enjoy some 80's schlock. For a low-budget quickie, I found Forbidden World to be lots of fun from start to finish. This is pure Roger Corman and it delivers everything you'd expect. The film is imperfect, and looks very cheap, but at the same that's what makes it good. This has plenty of good moments for horror fans to enjoy, and the strength of the film lies in its shocks, thrills and bloody content. Roger Corman knows how to deliver the goods on effective trashy horror gems, and Forbidden World is one of those films that really stands out. This is a film worth seeing if you love low-budget rip offs of big budget films and it's simply a fun film from start to finish. Don't take this film too seriously because it's pretty over the top. I very much enjoyed the film and it is gorier, grittier than the big budget films it tries to outdo. This is a flick that is sure to please Corman fans as well as low-budget horror fans looking for that film that delivers in ultimate cheapness; Forbidden Worlds is a very good viewing experience, one that horror fans should take.
½
Cheaper more gory version of alien (With tones of sex) as you can tell from the poster. Roger Corman is a fucking genus with him producing and some of his horror movies like these are the kind we never ever seen anymore :( Still all this madman did was use the left over sets from his last smut of a film called Galaxy of Terror and some paint-Them over and make an alien called Subject 20. Still fun movie no doubt with some great acting and direction at least.
A cheap and nasty Alien rip-off. Roger Corman has no shame, which is part of the reason why his films are awesome. There's gore, terrible dialogue, an awful looking monster, and gratuitous nudity. Watch in disbelief as our "hero" goes from the bed of one woman, straight to the naked woman in the steam-room. Lines are delivered with such little emotion it seems as though each actor would race each other off set everyday. I simply can't recommend it as rumor has it all the funny bits were cut out. This makes it a rather po-faced knock-off. At least we are treated to an exceptionally 80's sex scene, with weird colors, fast editing, and electrical sound effects. It then cuts to other members on the planet, and we see a man jamming out on some weird instrument. I expected someone to burst into song at any moment. There's also the genius moment where a woman communicates with the creature via computer.
Luke Baldock
Super Reviewer
Forbidden World (Mutant) Quotes
There are no approved quotes yet for this movie.