Foreign Correspondent
(1940)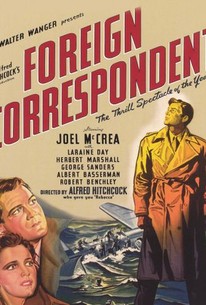 TOMATOMETER
AUDIENCE SCORE
Critic Consensus: Alfred Hitchcock's Foreign Correspondent features a winning combination of international intrigue, comic relief, and some of the legendary director's most memorable set pieces.
Foreign Correspondent Photos
Movie Info
Fourteen scriptwriters spent five years toiling over a movie adaptation of war correspondent Vincent Sheehan's Personal History before producer Walter Wanger brought the property to the screen as Foreign Correspondent. What emerged was approximately 2 parts Sheehan and 8 parts director Alfred Hitchcock--and what's wrong with that? Joel McCrea stars as an American journalist sent by his newspaper to cover the volatile war scene in Europe in the years 1938 to 1940. He has barely arrived in Holland before he witnesses the assassination of Dutch diplomat Albert Basserman: at least, that's what he thinks he sees. McCrea makes the acquaintance of peace-activist Herbert Marshall, his like-minded daughter Laraine Day, and cheeky British secret agent George Sanders. A wild chase through the streets of Amsterdam, with McCrea dodging bullets, leads to the classic "alternating windmills" scene, which tips Our Hero to the existence of a formidable subversive organization. McCrea returns to England, where he nearly falls victim to the machinations of jovial hired-killer Edmund Gwenn. The leader of the spy ring is revealed during the climactic plane-crash sequence--which, like the aforementioned windmill scene, is a cinematic tour de force for director Hitchcock and cinematographer Rudolph Mate. Producer Wanger kept abreast of breaking news events all through the filming of Foreign Correspondent, enabling him to keep the picture as "hot" as possible: the final scene, with McCrea broadcasting to a "sleeping" America from London while Nazi bombs drop all around him, was filmed only a short time after the actual London blitz. The script was co-written by Robert Benchley, who has a wonderful supporting role as an eternally tippling newsman. Foreign Correspondent was Alfred Hitchcock's second American film, and remained one of his (and his fans') personal favorites.
News & Interviews for Foreign Correspondent
Critic Reviews for Foreign Correspondent
Audience Reviews for Foreign Correspondent
Amusing enough, with a great cinematography and memorable set pieces, this is a passable film even with those irritating flaws that have become now the worst types of clichés, like a forced romance and how no one believes the main character and thinks he is crazy for no reason.
Carlos Magalhães
Super Reviewer
It's fascinating watching war time dramas made during that particular war time, especially when it's from the 40s. Hitchcock once again delivers with this thrilling war story about an American journalist on assignment in Europe who stumbles upon a scoop that could really be THE story that cements his career. That particular scoop happens to be a group of spies humorously fronting as a pacifist organization. I think the structure and pacing could have been reworked, as a pivotal assassination scene happens fairly early, when I felt it should have happened at the midpoint. And, for a two hour film, it does feel a little long and disjointed. However, the film is still engaging enough that this is not a major flaw, and more of a personal nitpick. The two leads aren't the most compelling, for a Hitch film or otherwise, but they could probably be worse, and seem to be at least trying their best. Where the film really shines is in the other stuff, like the typically strong direction, the wonderful cinematography, and some impressive setpieces like the aforementioned assassination scene set amongst a sea of umbrellas, the super taut creeping around the windmill scene, and the awesome plane sequence. It's all some great stuff, you know, typical Hitch, but it's worth seeing. Really solid, pretty fun, and something you should check out, despite the flaws.
Chris Weber
Super Reviewer
½
If it wasn't for the corny propaganda... But anyway a great little thiller with some impressive set pieces. Hitchcock didn't need an overly constructed plot to make it work, injecting his finesse and humour at every step. Current action/adventure filmmakers should take note of this fine example of escapist cinema.
Pierluigi Puccini
Super Reviewer
Foreign Correspondent Quotes
There are no approved quotes yet for this movie.