Forever Amber
(1947)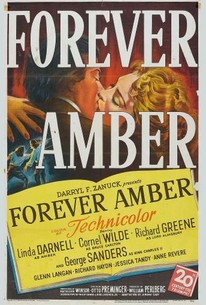 Movie Info
They said it couldn't be done, but they did it: Kathleen Winsor's "notorious", bestselling bodice-ripper Forever Amber actually made it to the screen in 1947 with full censorial approval. Of course, it was necessary to tone down the more erotic passages of Winsor's novel, but the end result pleased fans of the book and bluenosed nonfans alike. A last-minute replacement for British import Peggy Cummins, Linda Darnell steps into the role of 17th century blonde bed-hopper Amber as though she'd been born to play it. Feeling suppressed by her Puritan upbringing, Amber heads to London, finding considerable success as a courtesan (that's the polite word for it). The first real love of her life is dashing soldier Bruce Carlton, who leaves her pregnant and penniless when he marches off to war. Subsequent amours include the sadistic Earl of Radcliffe (a superbly loathsome performance by comic actor Richard Haydn), handsome highwayman Black Jack Mallard (John Russell) and privateer Captain Rex Morgan (Glenn Langan). Surviving the Plague and the Great London Fire with nary a hair out of place, Amber ends up in the arms of no less than King Charles II (wittily portrayed by George Sanders), but true love, as personified by Bruce Carlton, will always elude her. Taking no chances, 20th Century-Fox sent out Forever Amber with a spoken prologue, heard over the opening credits, which explained that the film in no way endorsed its heroine's libertine behavior, and that she would be amply punished for her sins before fadeout time (that prologue has thankfully been removed from current prints). A model of restraint by today's standards, Forever Amber was sufficiently titillating in 1947 to post an enormous profit, far in excess of its $4 million budget.
Critic Reviews for Forever Amber
Audience Reviews for Forever Amber
½
A very well done period piece starring the beautiful Linda Darnell.
Mason Williams
Super Reviewer
½
Linda is ravishing and the costumes are incredibly sumptous, they had to cut the guts out of the novel but on its own terms a fun ride.
Forever Amber Quotes
There are no approved quotes yet for this movie.