Forget Me Not
(2009)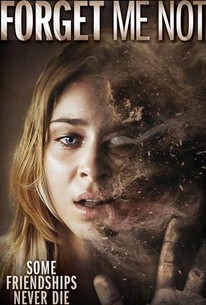 AUDIENCE SCORE
Critic Consensus: No consensus yet.
Movie Info
It's graduation weekend, and Sandy Channing, the popular class president of her small-town high school, should be enjoying the time of her life. But when her friends start disappearing, Sandy discovers they have unwittingly awakened the vengeful spirit of a girl they wronged long ago. Fighting for her sanity and her life, Sandy must unlock a dark secret from her own past before it's too late.
Critic Reviews for Forget Me Not
Audience Reviews for Forget Me Not
Once again an interesting premise, shot to hell due to bad dialog, bad acting and cheesy make-up effects.
Cast: Carly Schroeder, Cody Linley, Brie Gabrielle, Chloe Bridges, Jillian Murray, Micah Alberti, Brittany Renee Finamore, Sean Wing, Zachary Abel, Alex Mauriello Director: Tyler Oliver Summary: A party-filled graduation weekend turns into a nightmare for popular class president Sandy Channing (Carly Schroeder) when her friends begin to vanish one by one. Soon Sandy discovers they have awakened the vengeful spirit of a girl they mistreated years ago. Now she must work to resolve the dark mysteries of her past before she and all her friends become unwilling victims in this bloody horror flick. My Thoughts: "OK story, a few likeable character's, a little funny, decent acting, but boring. The only thing good in this was the scares. The make up effects were very well done and effective. I definitely jumped a few times which had me then laughing at the silliness of it. It's entertaining none the less."
♥˩ƳИИ ƜѲѲƉƧ♥
Super Reviewer
Not really scary. And at some point I thought the story is messed up or something.
Dead Angel
Super Reviewer
Forget Me Not Quotes
There are no approved quotes yet for this movie.