Forget Me Not
(2011)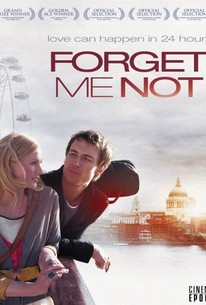 Movie Info
Taking place over twenty four hours, the story centres on Will Fletcher, a passionate musician, and Eve Fisher, a beautiful, free-spirited woman who works in the local bar. Whilst struggling to cope with a tragic secret, Will saves Eve from a drunken customer at closing time and their paths become inextricably linked. Intrigued by one another, they journey through London, not knowing what the night holds or what the day may bring. As dawn turns to light and the two draw ever closer, can Will reveal the truth to Eve?
Critic Reviews for Forget Me Not
Audience Reviews for Forget Me Not
½
Directed by Alexander Holt & Lance Roehrig, Quicksilver Films, 2010 Starring: Tobias Menzies, Genevieve O'Reilly and Gemma Jones Genre: Romance Question: Do you believe you can fall in love with someone in 24 hours? I do, or maybe I have just seen too many movies. Either way, I think it can happen and Forget Me Not may show you how. A typical Sunday afternoon in my house involves laundry. One thing I detest so I have to balance it out with something I love. Do I have to tell you what that is? I grabbed my laptop and headed towards the back of my home - a sanctuary from the rest of the house but also where the laundry room is located. First load in, headphones on and I hit play on Netflix Instant Play queue with Forget Me Not. I didn't know anything about this film except what IMDb said about it in its summary: "Love Happens. When you least expect it. Forget Me Not is a moving, modern day love story set over twenty-four hours against a stunning London backdrop." London?! YAY!! I lived in London for a short time and miss it nearly every single day so anything that has "a stunning London backdrop" in it, count me in. Plus, I had just completed watching a foreign mafia film that I did not like and not sure why, so a romance was the best genre to counteract the effects of the other. And it did. The movie starts off in a London pub with a musician singing and strumming his guitar. The female bartender serves up drinks to the locals watching him out of the corner of her eye or when she has a break from serving the drunk in front of her. His melancholy tune permeates the surroundings but you are too busy waiting for what comes next to take notice. His gig soon ends; he goes home and takes a bath. Then he starts to do something that makes your heart tighten, especially if you have ever been in that state of mind. He tries again but realizes he requires a drink first. Back to the pub. Okay, I am giving a play by play of the movie - I am stopping that now. At this point you are completely lost as to what is going on, and you desire to find the answers to all your "whys?" But in the back of your mind you really don't want to find out. Luckily the story then has you following the bartender and the musician as they walk through London on their way to a party after an unforeseen run-in with one of the pub patrons. During the course of this walk the two strangers begin to talk and share stories about each other. This is where I really started to drift head, or heart, first into the story...and then...buzzz...pause film...damn, laundry! Second load in. Play. Where was I? Oh yeah, the strangers continue on through the night walking through the streets of London, revealing stories about themselves that you might not think they would. However, it seems so comfortable that you don't question it. Yet something is held back by both. Understandably. What would make any two people, complete strangers, open up and share personal stories? That is hard to say but perhaps when you are lonely, scared or unable to recall a happy time, a stranger might be the best person to open up to. And they might just surprise you with being the right person for what you need. Okay, I am giving way too much away on this one. What is wrong with me? Perhaps it's the laundry...anyway. Dawn soon arrives and a trip to visit someone starts to bring the story closer to its climax. A revelation from one/a reminder to another surfaces, but as the audience member you are still in the dark. Where the love story goes from here was expected but then one stranger finally reveals all about themselves. And in one of the hardest but most understandable speeches it all made sense - the beginning, the middle and the finally, the conclusion. Two people who didn't know each other yesterday, and might not remember later, fall in love because they always have today. So if you are in the mood for a decent romance - check out Forget Me Not. My favorite thing: That I didn't even notice I was doing laundry. My least favorite thing: That I don't have plans to visit London anytime soon. Rating: R Length: 93 minutes Review: 7 out of 10
Tired of Previews
Super Reviewer
½
Although clearly influenced by the far superior brilliant Linklater's films Before Sunrise/Sunset, the aftertaste is not as sweet. There are darker undertones throughout and although the acting and direction are good, the journey taken is one you wish ends quickly. The cinematography is noteworthy with fantastic takes of beautiful London scenery and there is one story twist worth taking about in an otherwise less than exciting script.
Nicolas Korovessis
Super Reviewer
I had been waiting a really long time to see this movie. It was an indie release that took almost 2 years to come out on DVD, but it finally did and I couldn't wait to see it. The reason is simple, the amazing young cast. I knew nothing of the writer, director, or story, but I saw that they got every up and coming young star in Hollywood to star in this thing and that alone should have made it a good film. Unfortunately the story is very very simple. It's not a bad movie per say, but it's just nothing different from a thousand other films in the genre. The cast was great, but the film was honestly just done. There was no surprises, nothing especially scary or violent, it was just a very simple and familiar film.
Todd Smith
Super Reviewer
Forget Me Not Quotes
There are no approved quotes yet for this movie.