Forget Paris
(1995)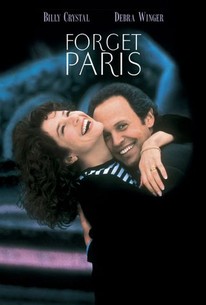 TOMATOMETER
AUDIENCE SCORE
Critic Consensus: In addition to its titular exhortation, Forget Paris also forgets to offer rom-com fans enough romance or comedy to fill a feature worth remembering.
Movie Info
Actor Billy Crystal co-wrote, directed, and starred in this romantic comedy. Forty-something couple Andy (Joe Mantegna) and Liz (Cynthia Stevenson) are about to be married, and as they gather with their friends for dinner not long before the wedding, they are told the story of their mutual friends Mickey (Billy Crystal) and Ellen (Debra Winger) as a cautionary tale of where a relationship can go wrong. Mickey is a top referee with the NBA who has traveled to Paris to bury his father, who wanted to be laid to rest with his Army buddies from World War II. The body is somehow lost in transit, and Mickey has an argument with Ellen, who works for an American airline in France. However, she likes his sense of humor, he is taken with her, and after a few days together in Paris, they decide to marry. However, once they return to Mickey's home in the United States, things get complicated; she's not so sure that she cares for his bachelor apartment ("a shrine to watching ESPN"), or juggling her career against his, while both have problems with their respective families. Several major basketball stars and sports figures appear in Forget Paris as themselves, including Charles Barkley, Bill Walton, Kareem Abdul-Jabbar, and Marv Albert. ~ Mark Deming, Rovi
Critic Reviews for Forget Paris
Audience Reviews for Forget Paris
½
Billy Crystal writes, directs, and stars in this utterly charming and fun romantic comedy. It's a bit of a mix of When Harry Met Sally with some doses of Woody Allen, but I don't think that's a problem. Crystal is Mickey Gordon- a frazzled NBA referee. After he goes to bury his father n France, Mickey ends up meeting and falling in love with Ellen Andrews- a fellow American making a great living abroad for an airline. They end up spending only a bit of time with one another initially, but this sparks grows into a bright flame of a relationship that, over the course of several years, goes through all the ups and downs that usually accompany something this special, and shows how, if it's meant to be, a relationship can get though pretty much anything. What I liked about this film is the structure. Its a frame story told mostly in flashback by friends of the couple who are waiting for them at a restaurant. One of Mickey's longtime buddies is getting married and his bride to be has yet to meet Mickey or Ellen, so everybody decides to fill her in, and that too is how the audience discovers the story. I'm a bit on the fence when it comes to Crystal. I don't dislike the guy, but Im unsure if I really like his work or not. It can be good, yes, but sometimes I find it hard to get into, or take it on its own terms without making comparisons to others. Here it worked for me. I thought this was a delightful little romp, and I'm not usually into this kind of film. I do think that he personally struggled a bit with the more dramatic stuff, but overall got through it okay. Debra Winger is great as Ellen, and she makes up where Billy falters. She's not quite a good with the comedy, but does okay, and in the end, they balance themselves out fine. As their friends we get the likes of Joe Mantegna, Cynthia Stevenson, Richard Masur, Julie Kavner, and Cathy Moriarty, et al, and they are a fine supporting cast. There's also tons of cameos, almost all of them from NBA players, announcers, and the like, and they too do a good job and seem to have a lot of fun. All in all, I found a lot to like here. It's shot well, funny, touching, and just made me feel good and sappy, and whatnot. Sure it's not the most original thing, but it's done better than it had to be, so yeah, give it a watch.
Chris Weber
Super Reviewer
½
This romantic comedy tells the story of the difficult years that follow the perfect first week with a new crush. It does so using Billy Crystal's typical humor that already made Harry and Sally a cult hit. The approach may be somewhat similar here, but there is much more to it. First of all, we hear the protagonists' story through their friends words, including interruptions and contradictions. That makes for a very quirky storytelling and plenty of great jokes. But the film does not shy away from showing the ugly and disenchanting truth after long distance or weekend relationships. Thankfully, even after the sadder parts, the movie always finds its way back to the lighter side of things, especially thanks to the excellent Crystal. Overall a very true and satisfying experience.
½
I'll tell you what I would like to forget.
James Alvarez
Super Reviewer
Forget Paris Quotes
There are no approved quotes yet for this movie.