Forgiving the Franklins
(2006)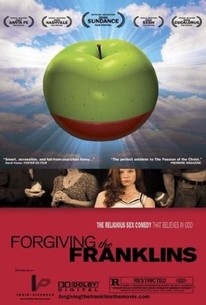 Forgiving the Franklins Photos
Movie Info
Divine Intervention lifts the burden of Original Sin from a conservative and devoutly religious North Carolina family, but not everyone in their cookie cutter suburban neighborhood is entirely thrilled with the once-reserved family's sudden about face. The Franklins are your stereotypical Americans, passionless and painfully repressed. Father Frank is a successful lawyer, and mother Betty tends to the home while son Brian is leading the high school football team to victory and daughter Caroline is cheering on the players from the sidelines. Not one of the Franklins is genuinely contented in the roles they play or the façade they put forward, yet they still continue with the same grueling game day after monotonous day. Then, one afternoon, the Franklins are involved in a violent car crash: Frank, Betty, and Brian all lapse into a deep coma as a result of the trauma, yet shaken Caroline somehow manages to escape serious injury. Upon emerging from their collective coma, Frank, Betty, and Brian begin to lead their lives without shame - much to the horror of uptight daughter Caroline. Caroline is completely repulsed by her family's newfound sense of sexual liberation, and the traditionally minded members of their community openly share her sense of deep disgust. It isn't long before tensions in the neighborhood begin to rise, leading to a conclusion that will forever alter the way we perceive small town America.
Critic Reviews for Forgiving the Franklins
Audience Reviews for Forgiving the Franklins
Amateurish, horribly acted, and awkwardly edited "comedy" about a conservative Christian family who is transformed into a liberated, liberal family by a car crash, drawing the ire of their uptight, conservative friends. The religious right is a group ripe with material to satirize, but this sub-TV movie quality disaster is NOT the way to do it. An insipid, ridiculous bore.
Matthew Lucas
Super Reviewer
Forgiving the Franklins Quotes
There are no approved quotes yet for this movie.