Formula 51
(2002)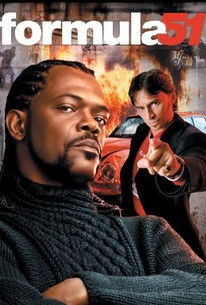 Movie Info
First-time screenwriter Stelios Pavlou enjoyed a major success with this script that he wrote while working in an English liquor store by sending it to actor Samuel L. Jackson, who signed on for one of the lead roles. Jackson is Elmo McElroy, a kilt-wearing, golf club-wielding Los Angeles native who has invented an illegal drug formula that he hopes will provide him with a last major score of 20 million dollars before he retires from a life of crime. He travels to Liverpool, England, where he hopes to find a buyer for his creation among the denizens of the city's rave scene, but his plans go awry when those who are in on the deal start turning up dead. Elmo's only protector is a chain-smoking, Yank-hating local hood named Felix De Souza (Robert Carlyle), who reluctantly partners with the violence-prone American to finish the deal and cash in, sparking a gang war between Elmo's vengeful one-time employer, The Lizard (Meat Loaf); Felix's boss, Durant (Ricky Tomlinson); crooked cop Virgil Kane (Sean Pertwee); a beautiful assassin, who also happens to be Felix's ex-girlfriend (Emily Mortimer); and an offbeat, yoga-practicing nightclub owner and mobster named Iki (Rhys Ifans). For its U.S. release, the title of The 51st State was changed to Formula 51.
Critic Reviews for Formula 51
Audience Reviews for Formula 51
[img]http://images.rottentomatoes.com/images/user/icons/icon13.gif[/img]
Directors Cat
Super Reviewer
½
A kilt wearing American pharmacologist comes to Liverpool to sell the formula for a new kind of street drug, but his former employer sends a hitwoman after him to ensure he fails. The 51st state is very frustrating to watch as I couldn't help feeling that there was a decent film in there somewhere trying to get out. The problem with it is its unbelievable lack of subtlety; it's over directed to the point where it feels like a clip show for CSI: Miami on crack, the constant, overly intrusive MTV soundtrack is abysmal and the constant stream of wacky comedy criminals made it feel like "Carry On Gangsters". Samuel L. Jackson is always watchable when he's allowed to strut his stuff and Robert Carlyle gets more tolerable as the film goes on, but its scattershot approach means that it misses the mark at least as often as it hits. In the end, one decent action sequence and a couple of mildly amusing gags is not enough to fill 90 minutes although Sam does make it watchable. Just. But I would never, ever sit through it again.
Formula 51 is a forgettable Guy Ritchie knockoff that seems to get more painful to watch as it gets closer to the end credits. The performances for the most part are tolerable with the exception of Meat Loaf, who seemed to be channeling a retarded Bob Dole on cheap speed. Emily Mortimer was foxy but not comely enough to make me sit through Formula 51 again.This movie was full of embarrassing moments (namely Sam Jackson's speech at the rave...and the rave in general) but the thing that bugged me the most about Formula 51 was the direction. If I want to watch a 90-minute music video I'll turn on MTV and open a few arteries. And speaking of music, this movie was like going on a date with a friend of a friend you're kind of interested in--you've got a good idea as to what you're getting into, but she won't shut the fuck up. This movie seemed to have no moments of silence. It was drowned in a background soundtrack generally crappy music. There were a few decent moments like the Robert Carlyle scene in the pub and Formula 51 could've been worse. I'm just not sure how much worse.
Michael Gildea
Super Reviewer
Formula 51 Quotes
There are no approved quotes yet for this movie.