Forrest Gump
(1994)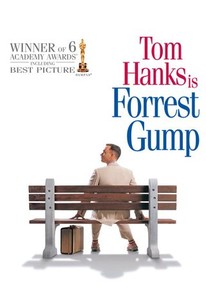 TOMATOMETER
AUDIENCE SCORE
Critic Consensus: Forrest Gump may be an overly sentimental film with a somewhat problematic message, but its sweetness and charm are usually enough to approximate true depth and grace.
Movie Info
"Stupid is as stupid does," says Forrest Gump (played by Tom Hanks in an Oscar-winning performance) as he discusses his relative level of intelligence with a stranger while waiting for a bus. Despite his sub-normal IQ, Gump leads a truly charmed life, with a ringside seat for many of the most memorable events of the second half of the 20th century. Entirely without trying, Forrest teaches Elvis Presley to dance, becomes a football star, meets John F. Kennedy, serves with honor in Vietnam, meets Lyndon Johnson, speaks at an anti-war rally at the Washington Monument, hangs out with the Yippies, defeats the Chinese national team in table tennis, meets Richard Nixon, discovers the break-in at the Watergate, opens a profitable shrimping business, becomes an original investor in Apple Computers, and decides to run back and forth across the country for several years. Meanwhile, as the remarkable parade of his life goes by, Forrest never forgets Jenny (Robin Wright Penn), the girl he loved as a boy, who makes her own journey through the turbulence of the 1960s and 1970s that is far more troubled than the path Forrest happens upon. Featured alongside Tom Hanks are Sally Field as Forrest's mother; Gary Sinise as his commanding officer in Vietnam; Mykelti Williamson as his ill-fated Army buddy who is familiar with every recipe that involves shrimp; and the special effects artists whose digital magic place Forrest amidst a remarkable array of historical events and people. ~ Mark Deming, Rovi
News & Interviews for Forrest Gump
Critic Reviews for Forrest Gump
Audience Reviews for Forrest Gump
With a fine performance by Tom Hanks, this is a refreshing feel-good movie that is always fun and charming, even if sometimes sentimental and a bit vague about its purpose - and if you are able to overlook its flaws, you will find a captivating story of innocence and optimism.
Carlos Magalhães
Super Reviewer
½
Forrest Gump: Jenny, I don't know if Momma was right or if, if it's Lieutenant Dan. I don't know if we have a destiny, or if we're all just floatin' around accidental-like on a breeze, but I, I think maybe it's both. Maybe both is happenin' at the same time. "The story of a lifetime." Forrest Gump is a beautiful film and definitely is the film that Robert Zemeckis and Tom Hanks are most known for. It's one of those rare movies that everyone has seen and just about everyone loves. It's a classic and it's not hard to see why. The movie takes on the simpleness of it's title character, Forrest Gump. It's not flashy, it's simple, and the simpleness is beautiful. Forrest Gump is an unintelligent, but interesting man. He was born in Alabama where he grows up with his friend, Jenny, and his mother. Forrest sits on a bus stop bench, telling strangers his life story. How he played football at the University of Alabama, how he went to Vietnam, how he met presidents, and how he has always loved his friend Jenny. Forrest's journey puts him at many important events during the sixties and seventies, and the movie surrounds the story of Forrest with civil rights issues, the hippy generation, and just about all the other major news of those decades. It does so in a very good way too, allowing the audience to see it as Forrest does.  How can you watch a movie so brazen with soul and warmth and not just love it. It's a comedy and a drama. It's funny, sad, and inspiring. It's one of those films you can watch a million times over and still get that same feeling you had the first time you watched it. It just is everything you want in a movie.  Tom Hanks is brilliant and Zemeckis' direction is incredible. It isn't just a story of a man, but of the generation he was apart of. The brilliance of how these two different elements are put together is what makes Forrest Gump the lovable and great movie it is. If you're one of the few people who haven't seen Forrest Gump, all I can say is, watch it.
Melvin White
Super Reviewer
A nice enough concept, fairly well pulled off but is mainly crushed by its own sentimentality and heavy handed emotional manipulation (not to mention ham-fisted politics). Good revision for your 20th century American history exam, otherwise watch Big Fish instead.
Louis Rogers
Super Reviewer
Forrest Gump Quotes
| | |
| --- | --- |
| Forrest Gump: | You died on a Saturday mornin'. And I had you placed here under our elm tree. And I had that house of your father's bulldozed to the ground. Momma always said dyin' was a part of life. I sure wish it wasn't. Little Forrest, he's doin' just fine. About to start school again soon. I make his breakfast, lunch, and dinner every day. I make sure he combs his hair and brushes his teeth every day. Teachin' him how to play Ping-Pong. He's really good. We fish a lot. And every night, we read a book. He's so smart, Jenny. You'd be so proud of him. I am. He, uh, wrote a letter, and he says I can't read it. I'm not supposed to, so I'll leave it here for you. Jenny, I don't know if Momma was right or if, if it's Lieutenant Dan. |
| | |
| --- | --- |
| Forrest Gump: | I don't know if we each have a destiny, or if we're all just floatin' around accidental-like on a breeze, but I, I think maybe it's both. Maybe both is happenin' at the same time. I miss you Jenny. If there's anything you need. I won't be far away. |
| | |
| --- | --- |
| Forrest Gump: | Life is like a box a chocolate, you never know what your going to get. |
| | |
| --- | --- |
| Forrest Gump: | Mama always said life was like a box of chocolates. You never know what you're gonna get. |