The Forsaken
(2001)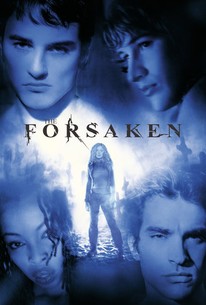 Movie Info
Genre writer/director J.S. Cardone crafts his own history of the vampire legend in this teen horror outing that takes place primarily in desert locations, à la Near Dark (1987) and Vampires (1998). Sean (Kerr Smith) is traveling across the desert to attend his sister's wedding when he picks up an unusual hitchhiker, Nick (Brendan Fehr). A vampire hunter, Nick soon has Sean embroiled in a battle between himself and a band of the undead creatures led by Kit (Johnathon Schaech). Caught in the middle of the supernatural shenanigans with Sean is Megan (Izabella Miko), who had been nearly turned into a vampire herself by Kit and his followers. Sean and Megan develop a romantic attachment, which encounters a further obstacle when Sean is infected with the vampire virus; only Kit's death can prevent Sean from permanently becoming one of the nosferatu.
Critic Reviews for The Forsaken
Audience Reviews for The Forsaken
½
Kerr Smith is so gorgeous. Pretty bad movie, interesting premise, but awful script and cinematography. I watched the whole thing, but if it wasn't for Kerr I wouldn't have watched it. Cool title for the movie "The Forsaken" sounds so badass. Too bad it wasn't. Could've been though had I rewritten and directed it.
½
The Forsaken has got to be the best vampire flick since 1987's The Lost Boys. The film oozes of sexuality that made The Lost Boys such a great film. The Forsaken takes elements from a few classic vampire films, and combines them into one entertaining horror yarn. Though not original and lacking in serious talent, The Forsaken is a notch above recent vampire films such as Blade. Whats so great about this film is that it brings back all the elements of what made a vampire film so good. Flawed of course, but very entertaining, The Forsaken is one iof the better vampire films of recent memory. Combining elements of road movies such as The Hitcher with Near Dark, director J.S Cardone does a fairly good job at crafting a mildly scary horror film. The Forsaken can be seen as almost a return to form in the vampire genre because at this point in horror, vampire films had lost their touch, the traditional elements such as using a wooden stake through the heart, garlic and holy water. We had vampires that could walk through sunlight. All do respect, but wtf? Vampires are night creatures. They don't sparkle or walk through sunlight and live, they burn to death. The Forsaken embraces classic vampire lore with a modern day feel and the film is faithful to a true vampire film. Take it as you will, but considering the whole Twilight craze a few years after this film was released, at least we have a film like this to remind us that vampires were truly terrifying and NOT something to be twisted and manufactured to teenage girls. The Forsaken is a very good film and before one dismisses it, you should at least give this film a chance.
½
A fairly decent, low budget, Vampire road B movie. Quite a combination, gory at times, with a young cast two of which are from the first Final destination film. It's a bit silly at times, why are vampires traveling around the dessert in an old Dodge charger? However it's quite enjoyable if you don't think about it too much and it fairs better than most films of this budget. One for Vamp and low budget horror fans.
The Forsaken Quotes
| | |
| --- | --- |
| Sean: | Like father, like son. |
| Nick: | Shit, I hope not. My mom told me my dad was a cross-dressing Marine drill sargeant. |
| | |
| --- | --- |
| Kit: | I've got an opening for a new girlfriend. What do you say? |
| Megan: | Fuck you! |
| Kit: | Oh, attitude. I like that in a girl. |
| | |
| --- | --- |
| Sean: | Yea, who gave you the right to play god with her life? |
| Nick: | Hey, this all about survival of the fittest! You don't learn that and you are going to die... or worse... |
| | |
| --- | --- |
| Kit: | Come to daddy, boys! |