Forsaken
(2016)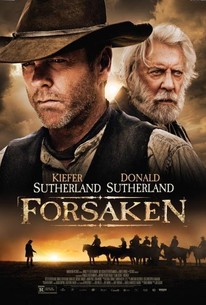 Movie Info
In 1872, JOHN HENRY CLAYTON (Kiefer Sutherland) retires as a gunfighter and returns to his hometown of Fowler, Wyoming in hope of repairing his relationship with his estranged father, REVEREND CLAYTON (Donald Sutherland). However, he soon learns that the town is in turmoil, as the railroad will be coming through the area and a criminal gang is terrorizing ranchers who refuse to sell their land. John Henry is the only one who can stop them, but his father does not want his son to return to a life of violence.
Critic Reviews for Forsaken
Audience Reviews for Forsaken
½
Old, Tried and True Brooding, intense, and dreary, Forsaken is an old fashioned Western told in an old fashioned way. A former Civil War soldier returns home after a series of ill-defined violent exploits only to be met with a deceased mother and a disappointed father. Eager for redemption, though not sure how to find it, he soon finds himself in the midst of another bloody conflict. Sound familiar? Yes, but the execution proves too good to write off. Though there are some clichéd motifs, to be sure, the film still feels authentic and offers some of the best acting in a genre that unfortunately has become awash in straight-to-dvd mediocrity. The characterizations are liking in some parts, yet their emotional integrity and presence is nearly visceral in this film-with an all-star ensemble cast featuring real-life father and son combo Kiefer and Donald Sutherland, Brian Cox, and Michael Wincott. Besides the acting, the film itself is restrained, with a slow build. Thought it has a short run-time, it never feels rushed, the action beats feel earned, and the ending resonates with the nearly poetic vibe of the film. Narratively it may seem slight, yet the parts work too well to be ignored in Forsaken. 3.5/5 Stars
Jeffrey Meyers
Super Reviewer
½
Standard oater held aloft by the quality of the affair: good direction, good script, good cinematography, and then, of course, a cast to die for.
Kevin M. Williams
Super Reviewer
Forsaken Quotes
| | |
| --- | --- |
| John Henry Clayton: | I did not choose it! |
| | |
| --- | --- |
| John Henry Clayton: | If I was lookin' for trouble you'd already know it. |
| | |
| --- | --- |
| John Henry Clayton: | The thought of coming back to you was the only thing that got me through that god damn war. |