Fort Apache
(1948)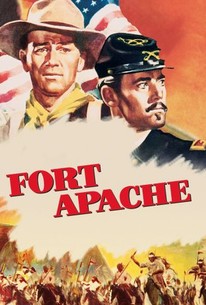 Movie Info
The soldiers at Fort Apache may disagree with the tactics of their glory-seeking new commander. But to a man, they're duty-bound to obey - even when it means almost certain disaster. John Wayne, Henry Fonda and many familiar supporting players from master director John Ford's "stock company" saddle up for the first film in the director's famed cavalry trilogy (She Wore a Yellow Ribbon and Rio Grande are the others). Roughhouse camaraderie, sentimental vignettes of frontier life, massive action sequences staged in Monument Valley - all are part of Fort Apache. So is Ford's exploration of the West's darker side. Themes of justice, heroism and honor that Ford would revisit in later Westerns are given rein in this moving, thought-provoking film that, even as it salutes a legend, gives reasons to question it.
Critic Reviews for Fort Apache
Audience Reviews for Fort Apache
½
The greatest of the "Cavalry" trilogy. Packed with great social commentary and amazing performances by Fonda, Wayne and Ward Bond. Fonda's final scene is one of the most powerful I've seen.
Graham Jones
Super Reviewer
The first part in John Ford's Cavalry Trilogy and it's a complete epic. It's hard to find any mistakes, potholes or dull spots; probably because they don't exist. This is a wonderful story with great characters, messages, and overall outlook concerning the west. Henry Fonda went against his usual personality and plays quite a flawed man, sick with a case of too much pride. John Wayne plays a supporting role in this, but his character is so important to the plot that he completely overshadows everyone else. He might have a fraction of some of the others lines, but he's there when it means something.
Conner Rainwater
Super Reviewer
I know that many consider Red River or The Searchers to be Wayne's greatest cowboy movies, but for me, you can't get better than Fort Apache. It is the first of John Ford and John Wayne's cavalry trilogy and is the best of the lot. I think the most interesting thing about the film is its rather sympathetic view of the American Indians--they were shown as being decent and 3-dimensional and Wayne repeatedly stressed the importance of our country keeping its word of honor to them as well. In fact, it was very funny seeing Wayne portraying the voice of reason while Henry Fonda was more of a martinet and could have cared less about honor and truth. Along the way, these two great actors are supported by old familiars like Victor McLaglen and Ward Bond, as well as Shirley Temple and her then husband, John Agar. Despite criticism leveled towards Agar by the media over the years (and to a lesser extent, to the adult Temple), I think they did just fine in their roles and made a positive contribution to the movie. And finally, the action and cinematography is tops. It's hard to imagine a more beautiful black and white film or one where so much care and effort was given to make a great film.
Cassandra Maples
Super Reviewer
Fort Apache Quotes
| | |
| --- | --- |
| Lt. Col. Owen Thursday: | [steps on scale] What is this scale used for? |
| Capt. Kirby York: | Weigh government beef, sir. |
| Lt. Col. Owen Thursday: | [adjusts scale] Seems I've gained seventy pounds since I've been in Arizona. |
| | |
| --- | --- |
| Sgt. Beaufort: | [the four soldiers who've come to escort Lt. O'Rourke to the fort have been invited to have a drink by Col. Thursday] Four bottles of cool beer, Ma. |
| Sgt. Festus Mulcahy: | And I'll have the same... with a whiskey chaser. |
| | |
| --- | --- |
| Sgt. Festus Mulcahy: | [after Co. Thursday has told the soldiers to destroy the contraband "whiskey"] "Destroy it," he says. Well, boys, we've a man's work ahead of us this day. |
| Sgt. Festus Mulcahy: | [after Co. Thursday has told the soldiers to destroy the contraband 'whiskey'] 'Destroy it,' he says. Well, boys, we've a man's work ahead of us this day. |
| | |
| --- | --- |
| Lt. Col. Owen Thursday: | This Lt. O'Rourke - are you by chance related? |
| Sgt. Major O'Rourke: | Not by chance, sir, by blood. He's my son. |
| Lt. Col. Owen Thursday: | I see. How did he happen to get into West Point? |