Fort Apache, the Bronx
(1981)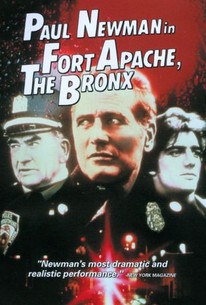 Fort Apache, the Bronx Photos
Movie Info
Paul Newman stars as an essentially decent cop patrolling that decimated, drug-and-gang-ridden borough known on the city maps as the Bronx, but known to its denizens as "Fort Apache". While Newman tries to hold on to his basic humanity and to treat even the sorriest of the people on his beat with dignity, he can't do much to convince his superiors that blind brutality is not the answer to social blight. When he witnesses fellow-cop Danny Aiello cold-bloodedly murdering a crime suspect, Newman is advised to sweep the whole incident under the rug. He refuses to do so, and as a result becomes "persona non grata" to his former friends on the force. Ed Asner co-stars as the beleaguered captain who has given up trying to treat his job as anything but a necessary evil, while Rachel Ticotin is Newman's love interest.
Critic Reviews for Fort Apache, the Bronx
Audience Reviews for Fort Apache, the Bronx
It may have been released in 1981, but this film sure has the look, feel, and sounds of the 1970s all over, and that's just fine by me. This is a gritty, cynical, yet still entertaining film about a nistly decent but burnt out veteran beat cop dealing with the continually worsening decay that has overtaken The Bronx. The film is somewhat of a character study, and it has a very loose, episodic flow, instead of a rigidly structured plot. I think this helps the film. However, there are a few scenes that feel like they've been suddenly cut short, and the transitions between them feel really abrupt and choppy. Aside from that though, I don't have too many other issues. I mean the film is guilty of numerous genre cliches, but what film isn't? Newman does a pretty good and believable job in the lead. As his love interest, a nurse who also happens to be a junkie, Rachel Ticotin is okay, but not really excellent or anything. Pam Grier (who sadly doesn't have as much screen time as I had hoped) has a small but memorable supporting role as a junkie prostitute/murderer. She does a really good job, and exhibits some fine method acting. Her memoir gives some intersting details about how she prepared for this movie, as well as some good information about it in general. Asner, Wahl, and Aiello are also all likewise decent. What works best here though, is the location shooting, and the cinematography. It was shot on location throughout The Bronx, and things look quite realistic, run down and grimy. There's some really good long deep focus shots and some nice lighting and framing here as well. As much as I liked this movie, I can't say I'd want to visit that place during that time. I liked the music, but I could have used more of it. Give this one a shot. The critics seem to miss the point with this one. Yeah, it's not really innovative, but it's pretty decently made, has great atmosphere, look, mood, and tone, the performances are good, and it's pretty watchable and entertaining. What more, really, could you ask for?
Chris Weber
Super Reviewer
A controversial and powerful drama starring Paul Newman in a performance that is nothing short of brilliant, he plays a tough, tired veteran Police Officer on the beat in the squalid, largely devastated wasteland of the South Bronx of New York City in the early 1980s, where murder, drugs, prostitution, riots, corruption and indifference are part of every day life. Superb supporting performances by Ed Asner, Ken Wahl, Rachel Ticotin, Danny Aiello, and Pam Grier. A unforgettable look at the demoralization of the lower classes in a hellish urban territory. Highly Recommended.
Danny Rovira
Super Reviewer
½
Cynical but entertaining police drama where the real villain is 70's New York.
Randy Tippy
Super Reviewer
Fort Apache, the Bronx Quotes
There are no approved quotes yet for this movie.