Fort Bliss
(2014)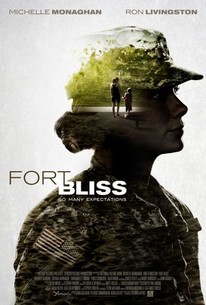 Movie Info
Written, Directed, and Produced by Claudia Myers Starring: Michelle Monaghan, Ron Livingston, Manolo Cardona, Gbenga Aikinnagbe, Emmanuelle Chriqui, and Pablo Schreiber Decorated U.S. Army medic and single mother Maggie Swann (Michelle Monaghan) returns home from an extended tour of duty in Afghanistan to discover the bond with her five-year-old son has been broken. As she struggles to reclaim his affection, life after deployment is made more difficult by her persistent memories of Afghanistan. When news of another deployment threatens the fragile balance she has achieved, she must find a way to reconcile her duties as a mother and her obligations as a soldier. (C) Phase 4
Critic Reviews for Fort Bliss
Audience Reviews for Fort Bliss
½
There was no ending....let's face it every story needs an end.
Nikki Meroney
Super Reviewer
½
In "Fort Bliss," Staff Sergeant Maggie Swann(Michelle Monaghan) arrives back in the states, the day after saving a soldier's life from an IED ambush in Afghanistan. But instead of the emotional reunion she was expecting with her five year old son Paul(Oakes Fegley), her ex-husband Richard(Ron Livingston) shows up late without him. At least, he brings the jumper cables that are necessary to start her car. In any case, Paul seems rather attached to Alma(Emmanuelle Chriqui), Richard's younger girlfriend, which is a situation Maggie desperately wants to rectify. While not the definitive statement on life in the military, "Fort Bliss" is still a thoughtful character study that benefits greatly from an excellent and sincere performance from Michelle Monaghan.(On the other hand, Ron Livingston is definitely miscast.) In other words, it is about somebody who has found her role in the army which is not for everyone. At the same time in a movie that is very much concerned with memory, Maggie has to work to insure that her son will never forget her.
Fort Bliss Quotes
There are no approved quotes yet for this movie.