Fortress 2: Re-Entry
(1999)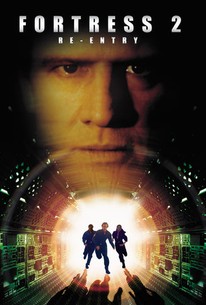 Fortress 2: Re-Entry Photos
Movie Info
In this follow-up to Fortress, Stuart Gordon's 1993 sci-fi adventure drama, John Brennick (Christopher Lambert) and his wife Karen (Beth Toussaint) are once again on the run in a totalitarian regime of the future, where a multi-national corporation called Men-Tel has taken control of the world. While Karen eludes capture, John is arrested and sentenced to a penal colony in space. 26,000 miles from home, he must perform hard, dangerous labor in a punishing environment alongside some of the most fearsome criminals in the galaxy. Monitored by an elaborate computer system, his body implanted with a security camera that allows his jailers to see where he is at all times, John would seem unable to escape -- but that would underestimate his ingenuity, or his desire to be with Karen again. Fortress 2: Re-Entry also stars Pam Grier and Patrick Malahide; former Tangerine Dream member Christopher Franke composed the musical score.
Critic Reviews for Fortress 2: Re-Entry
Audience Reviews for Fortress 2: Re-Entry
½
Sequel to Fortress, this is a is a decent affair, one that is quite entertaining and is worth seeing if you enjoy low budget action films. The original wasn't the best film, but it was good, and this one is a decent affair that retains the vibe of the original and uses a proven formula to deliver something worthwhile for genre fans. If you're in the mood for a pleasant B movie action flick, and have seen the first, then you're sure to enjoy this one. The film is manages to entertain, and it's one of those movies that definitely will appeal to genre fans. Although never anything great, the film is a pleasant time waster that deserves to be rediscovered by B movie fans. Of course the film has silly moments, but that's where it gets its charm. I enjoy low budget action flicks, and for a sequel, it's entertaining enough considering that it's so low budget. If you're a fan of these films, you're going to like this one, though it's not a perfect film, compared to the Highlander sequels, this is a far better affair starring Lambert. Fortress 2 sticks to a proven method of action filmmaking, and though it has shortcomings, it's a fun film if you enjoy this genre. The acting here is average, and is nothing great considering that is B movie stuff, but for the most part, it succeeds at delivers an hour and a half of entertainment value for viewers looking for mindless action. There might be better B movies out there, but for what it is, it's better than what people give it credit for.
½
Well good old 'Brennick' has once again been caught by the evil 'MenTel Corp' and banged up, only this time the prison is in outer space folks! Yep the franchise goes right down the pan here as the original is simply remade all over again but in space...well a poor excuse for space. The first film had some class but this second is a really poor effort simply to cash in on more of the same. The effects are pretty bad with really obvious bluescreen work, acting is bad from all including Lambert who has nothing much to go on really and the space prison sets look dreadfully cheap and cheerful. It really is a shame to see such a difference in quality with these two films. This second is actually pretty dull seeing as it retreads everything from the first literately. Only highlight is the sexy Pam Grier and errr that's pretty much it.
Phil Hubbs
Super Reviewer
½
This sequel with Christopher Lambert who returns to reprise his role in prison again at the outer space, he must figure out how to escape again. Plagued by halfhearted performances and below-par effects, Fortress 2 cannot escape from its own inconsistencies.
Dean McKenna
Super Reviewer
Fortress 2: Re-Entry Quotes
There are no approved quotes yet for this movie.