The Fortune
(1975)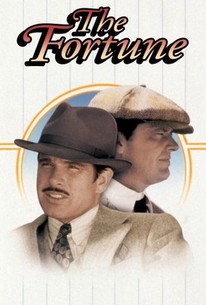 Movie Info
Three's a crowd in Mike Nichols's period caper comedy -- or is it? To dodge the 1920s Mann Act barring the transport of women across state lines for "immoral purposes," not-yet-divorced Nicky (Warren Beatty) has felonious buddy Oscar (Jack Nicholson) marry Nicky's runaway heiress sweetheart Freddy (Stockard Channing) so they can all escape New York for Los Angeles. The three set up house together, but trouble starts brewing when odd man out Oscar decides to get Nicky's attention by exercising his rights as a husband to Freddy. Exasperated with being stuck in the middle of the bickering pair, Freddy threatens to donate her impending inheritance to charity, inciting Oscar and Nicky to hatch a plan to bump her off and keep the money. But Freddy just will not die, prompting the three to reconsider the whole arrangement. With a period setting and pair of stellar lead actors similar to the 1973 blockbuster The Sting, a screenplay by Five Easy Pieces author Carol Eastman (under the name Adrien Joyce), and deft comedy director Nichols, The Fortune seemed like a can't-miss proposition. But it resoundingly flopped, as audiences preferred to see Beatty in his earlier 1975 starring role as a racy L.A. hairdresser in Shampoo, and to wait for Nicholson's later 1975 incarnation as an archetypal iconoclast in One Flew Over the Cuckoo's Nest. As with other late '60s-early '70s period films like Beatty's own Bonnie and Clyde (1967), The Fortune lends an updated sensibility to its old-fashioned milieu, complete with a very modern happy ending.
Critic Reviews for The Fortune
Audience Reviews for The Fortune
With two such big name stars I was surprised that I'd never heard of 'The Fortune' before but having seen the finished product it's pretty clear why Hollywood has chosen to disown it. The pairing of Beatty and Nicholson just doesn't work here. The material suggests pure farce and what was needed was a Lemmon and Matthau pairing. Instead Beatty looks uncomfortable and Nicholson looks like he's going to massacre the whole cast at any time, so scary is the glint in his eye! Channing is good as the woman they are desperately trying to fleece and the period detail by Nichol's looks great but I didn't find it very funny and was bored through most of it.
David Sayers
Super Reviewer
Nicholson and Beatty form a really funny duo.
Lucas Martins
Super Reviewer
The first hour/2 acts of The Fortune were so slow moving that not even the underrated comic pairing of Jack Nicholson (an absolute nut here) and Warren Beatty (think a dopey Jim Dandy) were able to completely stop the juggernaut of slow dullness. I was wondering why the hell I'd never heard of The Fortune before and I'd gotten my answer. But once that first hour disappeared something clicked with the comic timing and the last 10 minutes of The Fortune were some of the most hilariously tense and nerve-wracking I can remember. Its a quick worthwhile watch if you get the chance.
Michael Gildea
Super Reviewer
The Fortune Quotes
There are no approved quotes yet for this movie.