The Fountainhead
(1949)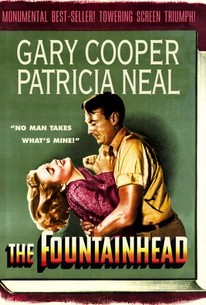 Movie Info
In this adaptation of Ayn Rand's novel, Gary Cooper stars as Howard Roark, a fiercely independent architect. Rather than compromise his ideals, Roark takes menial work as a quarryman. He falls in love with heiress Dominique but ends the relationship when he is finally able construct buildings according to his own wishes.
Critic Reviews for The Fountainhead
Audience Reviews for The Fountainhead
½
Although the message it carries is indeed powerful and still relevant, the execution seems to fall short, as cinema just can't get a hold on that much philosophy, therefore most characters look like stereotypes, they are all too smart and sensitive to be perceived as people we could identify with, this same issue affects King Vidor's direction, it feels a bit stagy. Nevertheless the script has great quoteable lines and the art direction and cinematography are impressive.
Pierluigi Puccini
Super Reviewer
fountainhead the novel has tackled into the oppositional conflicts between individualism and collectivism through four characters: peter keating, the second-hander; ellsworth toohey, the crooked intellectual who patronizes collectivism for profits; gail wynand, the egoist who scrifices his own individuality for power; howard rourke, the man of men, the individualist who stands firm on his own ground, the sublime presentation of american modernism. ayn rand's literature has been degraded by some as propanganda since the characters in her novel could merely be representations of her philosophical notions in human forms, and all these together are etwined into an illustration of objectivist philosophy, an ayn rand utopia, which praises personal interests and the virture of selfishness, BUT the unique difference is rand's brand of individualism as well as selfishness is a responsible one, just like sartre's existentialism with an (russian-)american twist. as i mentioned in the review of gone with the wind, david o salznik once noted that any social problem would be solved in the movie as long as it's blended with a romance, which aims to consummate. so is the case of fountainhead the movie, which is a vehicle to demonstrate the mighty magnitude of gary cooper's machismo. audience probably walks off the theater in a pleasant mood due to the sparkling chemistry between cooper and the divinely sultry particia neal. in the original novel, howard rourke was acquited because the jury doesn't believe anyone who ernestly has such faith in individual integrity could be sane, thus rourke is not mentally prepared to pay the consequence of blowing off a building. ha. quite an irony, right? is ayn rand intended to provoke anarchy? beside the fact that fountainhead is a cinematic adaptation of tour de force by director king vidor, its failure to deliver its philosophical concepts just bares the limit of cinema as an apparatus to sharpen human wits, on the contrary, cinema could blunt the human wits due to its overt saturation of images (respresentation) and fluent narratology which aim to exhilarate your percpetive sentiments instead of triggering your mind into meditation. in the case of fountainhead, it simply becomes a sensual legend in the celebration of the potency of masculinity: it's about an architect who raises his chin up to cope with all the obstacles, and him alone against the world. at last, the phallic male is rewarded just like all the old-hollywood pieces. he succeeds and walks home with the most beautiful woman in the scene. seriously, would you probe the meaning of being an individual or american collectivism after viewing the movie? does cinema make you think? even it does guide you into thinking, could it be more than an elaborate indulgence of avant-garde aesthetism or blind-fold you into identifying with an ideology by this compelling aesthetics?
Veronique Kwak
Super Reviewer
½
The voice of one crying in the wilderness, Ayn Rand's script based on her novel is not perfect by any means, nor is this film. But ... its point, its directness, its dynamic, its resonant impact is seldom seen and hard to ignore. A must see.
Kevin M. Williams
Super Reviewer
The Fountainhead Quotes
| | |
| --- | --- |
| Ellsworth M. Toohey: | Why don't you tell me what you think of me, in any words you wish? |
| Howard Roark: | But I don't think of you. |