Four Brothers
(2005)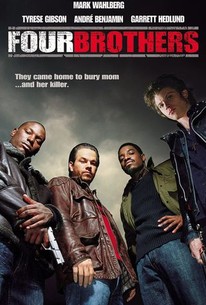 TOMATOMETER
AUDIENCE SCORE
Critic Consensus: Despite striking a believable rapport among its principal actors, Four Brothers overwhelms with ultra-violent, vigilante-glorifying action and devolves into too many fractured, insubstantial thematic directions.
Movie Info
Four men come together to find out how and why the woman who raised them was killed in this hard-edged urban drama from director John Singleton. Short-tempered Bobby (Mark Wahlberg), struggling musician Jack (Garrett Hedlund), streetwise Angel (Tyrese Gibson), and hard-working Jeremiah (Andre Benjamin) are four guys who don't appear to have much in common, in terms of either race or temperament. However, these men have one very important bond -- all four were adopted and raised by the same woman (Fionnula Flanagan), and they all love her as a mother, and respect one another as brothers. When their mother is killed during a robbery at a grocery store, the four brothers come together for the funeral, but when they don't get straight answers about what happened to her, they begin looking into the crime themselves. The deeper they dig into the case, the more the brothers begin to suspect that the shooting wasn't an accident, and that powerful and unexpected forces were involved. Four Brothers marked one of the first starring roles for Andre Benjamin, better known as Andre 3000 of the top selling hip-hop group OutKast. ~ Mark Deming, Rovi
Critic Reviews for Four Brothers
Audience Reviews for Four Brothers
This is director John Singleton's modern update of sorts on The Sons of Katie Elder. The titular characters are four guys from different backgrounds (and races) who reunite after years of separation for their mother's funeral. Considering that she was the nicest lady ever, they are all curious as to she was murdered. When they can't get any straight answers from authorities, they decide to take matters into their own hands. This is a slick urban drama filled with grit, intensity, and a bit of humor as well. Were it not for their adopted mother, these four guys would have nothing in common, but they do make for an interesting bowl of personality stew. Mark Wahlberg is the short-tempered Bobby, Garrett Hedlund is the struggling punk rocker Jack, Tyrese Gibson plays street-wise Angel, and the only seemingly normal one, the hard working Jeremiah, is portrayed by Andre Benjamin. Fionnula Flanagn is the thread that holds them all together. Other roles include Terrence Howard as a cop on the case, pre-fame Sofia Vergara as Angel's lady, and Chiwetel Ejiofor as a rather shady hood. The performances are pretty decent, better than expected for this sort of thing, and everyone mostly seems to mesh pretty well. The pacing and atmosphere are pretty good, the cinematography is well-executed, and the action, when it happens, is great too, a big shootout in particular being a major highlight. All in all, this is far better than is has a right to be, and that actually makes me happy. This is proof that Singleton didn't lose all of his talent after Boyz n the Hood. Give this one a watch- it's pretty satisfying.
Chris Weber
Super Reviewer
Bobby: Forget that, Green. I used to make a good living around here because cops like you couldn't find tits in a strip joint. "They came home to bury mom... and her killer." I have really mixed feelings about Four Brothers and my rating is a bit inflated based off of any normal things you evaluate a movie on. The acting was either extremely dull or over the top, despite the fact that I like most if not every one of the actors. Also the writing is a bit dumbed down to say the least and the characters, besides Bobby, aren't all that interesting. This is probably due to the dialogue they were given compared to Bobby's because Mark Wahlberg(although funny) didn't do anything all that great with his performance. The movie was entertaining and I did really like Wahlberg's character. It was interesting throughout, but also a lot of the interest and entertainment came from how poorly the film was put together. So yeah I have mixed feelings. Four brothers come back and plan to seek revenge for their mothers murder. Their mother was regarded as a saint, as she was a foster mother that gave kids direction. She adopted the "four brothers" because they were the ones she couldn't really turn around and she knew no one else would take them. Once again I have mixed feelings about the premise of the film. The revenge movie has kind of been done to death and I like the way this one kind of comes at a different angle, but for some reason the main premise, and the whole movie for that matter kind of feels thrown together. Four Brothers is worth a look, but it isn't a movie that you necessarily need to see. I had some problems with it, but it was some fun, stupid entertainment and every once in a while, movies in that fake sub-genre can be pleasing. This just happens to be one of those for me.
Melvin White
Super Reviewer
½
This is a good movie in terms of the bonds of brotherhood, family, etc. Yet it lacks the most simplest of reality. I mean, I know that Detroit is the ghetto and it often lacks police intervention but walking into a school with you're guns loaded in the middle of a basketball game? Shoot outs in the middle of the streets like general warfare? All I could keep thinking at some of these moments was, "Where the hell are the cops?" Better yet in some scenes it' was like, "Is there any other people in this city other than the main actors?" The weird thing is I really liked this movie but I wish they would have toned it down just a tad and used the morals and emotions of the story a little more realistically and relatable to a real life scenario. I mean, this COULD happen, but not likely!
Bobby Hobbs
Super Reviewer
Four Brothers Quotes
| | |
| --- | --- |
| Jack Mercer: | [Over Evelyn's Finacial Matter's] How Much Do We Get? |
| Jack Mercer: | [over Evelyn's finacial matter's] How much do we get? |
| Jack Mercer: | [over Evelyn's financial matter's] How much do we get? |
| | |
| --- | --- |
| Evan: | He said hurry the fuck up. Then he hung up. |
| | |
| --- | --- |
| Jack Mercer: | [chasing someone down a hallway] Hey kid! No running in the halls! |
| | |
| --- | --- |
| Victor Sweet: | You don't pay a hoe to fuck ya, you pay her to leave. |
| Victor Sweet: | You don't pay a ho to fuck you. You pay her to leave. |