Four Days in September (O Que É Isso, Companheiro?)
(1997)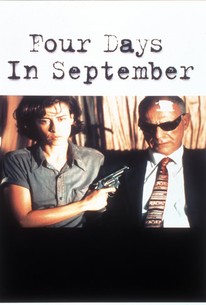 Four Days in September (O Que É Isso, Companheiro?) Photos
Movie Info
Bruno Barreto returned to his native Brazil after a ten-year absence to direct this fact-based political thriller that was nominated for a Best Foreign Language Film Oscar. Pedro Cardoso stars as Rio de Janeiro journalist Fernando Gabeira, who decides with his friend Cesar (Selton Mello) to take up arms with a radical leftist organization, MR-8, in 1969. The revolutionaries, who include the tough-talking and beautiful Maria (Fernanda Torres), are fighting to overthrow Brazil's brutal military government through civil unrest and guerilla tactics. Their first action, the robbery of a bank, is successful, although one group member is captured and tortured by Henrique (Marco Ricca), a secret service agent plagued by his conscience. As a follow-up to the heist, the MR-8 members kidnap the U.S. ambassador to Brazil, Charles Burke Elbrick (Alan Arkin). During four days of captivity, however, the kidnappers discover that their prisoner is a good-hearted man of conscience, causing Fernando to become increasingly uneasy about the group's plan to kill Elbrick if a demand for the release of political prisoners goes unheeded. O Que E Isso, Companheiro? (1997) was based on Gabeira's book of the same name but was released in the U.S. under the title Four Days in September.
Critic Reviews for Four Days in September (O Que É Isso, Companheiro?)
Audience Reviews for Four Days in September (O Que É Isso, Companheiro?)
½
It shows revolutionaries fighting a dictatorship as a bunch of confused amateurs (I wonder how they don't get killed after halfway through), while also trying to humanize torturers in a muddled plot that doesn't really know what to do with this sort of material in its hands.
Carlos Magalhães
Super Reviewer
½
One of the best films of Barreto. Four Days In September is really tense. Fresh.
Lucas Martins
Super Reviewer
Awesome Film about a kidnapping of an US ambassador in South American. Based on a true Story. Very interesting and enjoyable. Worth Seeing.
Bruce Bruce
Super Reviewer
Four Days in September (O Que É Isso, Companheiro?) Quotes
There are no approved quotes yet for this movie.