The Four Feathers
(2002)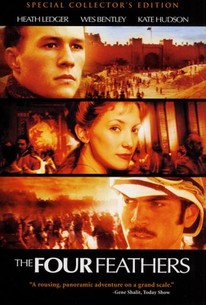 Movie Info
The story, set in 1898, follows a British officer who resigns his post when he learns of his regiment's plans to ship out to the Sudan for the conflict with the Mahdi. His friends and fiancee send him four white feathers, which symbolize cowardice. To redeem his honor he disguises himself as an Arab and secretly saves the lives of those who branded him a coward.
Critic Reviews for The Four Feathers
Audience Reviews for The Four Feathers
½
Don't care what anyone else says. This is my second-favorite Heath Ledger film (second only to Brokeback Mountain). And Wes Bentley -- for all his personal problems -- is FRICKIN' HAWT in this film. (Wes -- hit me up on Flixster if you wanna date, m'kay?) Costumes and location magic? Holla!
Christian C
Super Reviewer
½
Barring the lame and predictable love story, this movie was pretty great. Unique plot, as well as the always super badass Djimon Hounsou. In this one he plays a desert comando covered in white powder with neato hair and decor. In fact, I wish he had been the main focus. But alas, Heath Ledger was ok as well, as was Wes Bentley (once he had his cool scar makeup anyways). And Michael Sheen has yet to be in a bad role.
Curtis Lilly
Super Reviewer
½
I've actually always found this to be a good movie. Even though it is constantly bashed by critics, I think it's a beautiful story. It's not perfect, but it's not bad by any means. The acting was good and the scope of the film was as broad as an epic.
Conner Rainwater
Super Reviewer