Four Last Songs
(2006)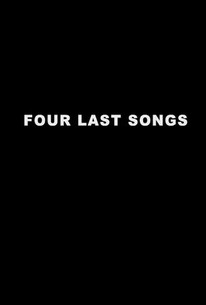 AUDIENCE SCORE
Critic Consensus: No consensus yet.
Movie Info
The efforts of an American ex-patriot living on a remote Mediterranean to establish himself as a serious musician are constantly thwarted by every inhabitant of his small village in director Francesca Joseph's ensemble comedy drama. Larry (Stanley Tucci) thought that by moving to the village that was once home to a celebrated European composer he would find inspiration, but instead he just spends his nights playing for peanuts in the local pubs. Eventually Larry becomes convinced that if he stages a gala tribute to the late composer the locals will finally take note of his talent. But organizing such a lavish event and convincing the late composer's widow (Marisa Paredes) to allow her esteemed late-husband's works to be played publicly by a famed pianist (Virgile Bramley) isn't going to be easy, especially when it begins to seem like everyone wants their say in the event. Now, with everyone from Larry's neurotic partner Miranda (Jessica Stevenson) to the late musician's lovely muse Helena (Emmanuelle Seigner), opportunistic Englishman Sebastian (Hugh Bonneville) and his capricious brother Dickie (Rhys Ifans), and even Larry's long lost daughter Frankie (Jena Malone) crawling out of the woodwork, the put upon pianist will have to balance out the chaos that swirls around him if he holds out any hope of delivering his true masterwork. ~ Jason Buchanan, Rovi
Critic Reviews for Four Last Songs
All Critics (1) | Fresh (1) | Rotten (0)
With sometimes bumpy work, both in editing and directing. There are moments of overt sentimentality, but performances are great
April 26, 2008
Audience Reviews for Four Last Songs
Cast: Emmanuelle Seigner, Jena Malone, Rhys Ifans, Maria Esteve, Stanley Tucci, Hugh Bonneville, Karl Johnson, Jessica Hynes Director: Francesca Joseph Summary: American pianist Larry (Stanley Tucci) tries to arrange a concert of a recently deceased composer's work at a Mediterranean getaway, only to be fought tooth and nail by the island's inhabitants. The dead man's widow, his beautiful mistress, nosy and drunken neighbors, a jealous girlfriend and a suddenly appearing long-lost daughter only add to Larry's troubles. My Thoughts: "The film has a fun talented cast who portrays some great unique characters. The story is sweet, sad, and dramatic. The film has quirky written all over it. There are brothers in heartbreak over a mothers passing. A wife scorned by a deceased husband who had an mistress. A mistress who can't find love again. A musician who's talent has never seen the outside of a restaurant. A young nineteen yr old looking for a relationship from a father she never knew. There are a lot of things happening in the film. The thing that makes the film is not just the story, but the characters. I absolutely loved Rhys Ifans in the film as Dickie. He was a fun emotional wreck, and I loved every minute of his character. Stanley Tucci is always wonderful in any film he's in. I love Jena Malone and try to see every film she is in. I love her acting. She was great as Frankie. If you love indie films, then you might just love this film."
♥˩ƳИИ ƜѲѲƉƧ♥
Super Reviewer
Four Last Songs Quotes
There are no approved quotes yet for this movie.