The Four Musketeers
(1975)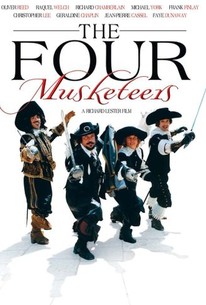 The Four Musketeers Photos
Movie Info
This comic interpretation of Alexandre Dumas's classic adventure saga picks up where 1974's The Three Musketeers left off, as D'Artagnan (Michael York), Athos (Oliver Reed), Aramis (Richard Chamberlain), and Porthos (Frank Finlay) scuttle the plans of Lady de Winter (Faye Dunaway) to remove Queen Anne (Geraldine Chaplin) from the seat of power. De Winter is determined to get revenge against the Musketeers, and when she learns that D'Artagnan is infatuated with the lovely Constance (Raquel Welch), she first tries to foil their romance by seducing D'Artagnan herself, and then by persuading Rochefort (Christopher Lee) to kidnap Constance. She then engineers the assassination of the Duke of Buckingham (Simon Ward), a close friend of D'Artagnan; when word of the Duke's death and Constance's imprisonment reaches D'Artagnan and his comrades, the foursome ride off to rescue the fair lady and see that justice is done against de Winter. The Four Musketeers was filmed concurrently with The Three Musketeers; it was originally intended to be one film, but when director Richard Lester realized the movie would be over three and a half hours long, the decision was made to release it as two separate features instead. This led to lawsuits filed by several of the stars, claiming that they were hired under false pretenses and entitled to be paid for making two films rather than one. The actors won their case, but their settlement was significantly less than the salary they hoped to receive.
Critic Reviews for The Four Musketeers
Audience Reviews for The Four Musketeers
Probably the best Three Musk...oh wait, this is the same film again...he split the film in two. So this is probably the best Three Musketeers film since errr...the previous film which was the same film but chopped in half, yeah, oh and now its called 'The Four Musketeers', clever little twist there heh. So yes here we are again following on from where the last film left off. Of course the fact that this is essentially the same film just chopped in half everything is exactly perfect continuity wise. But that's not exactly a big deal cos its the same film people!! but I guess if you didn't know that then it would come across amazingly well. The film covers the second half of the famous novel and one could say the more exciting half. Not that the first wasn't brilliant, its just in this film there is even more epic awesomeness!. 'd'Artagnan' is now a Musketeer so the foursome are high on confidence and positively brewing over with arrogance and cockiness. I can't really go into the visuals etc...once again as this is the same film so naturally it all looks terrific as before. We still have the same tour de force of stunts and swashbuckling action, the same silly oafish humour and the same gorgeous location work. The main thing that stands out here is the impressive battle sequences which far outnumber the previous chapter. A sequence where all four Musketeers take a bet to have breakfast within the ruins of a Bastion is a perfect example of this whole production. Ridiculously silly notion which incorporates some ridiculous visual gags that are so predictable yet highly amusing. To see poor old Roy Kinnear's character trying to serve his Musketeers superiors whilst under fire will guarantee a smile on your face. All the while our four heroes calmly drink wine and let off a shot or two pipping the odd enemy. There is another fantastic clash of swords on a frozen lake with the three older Musketeers coming to the rescue of 'd'Artagnan', Christopher Lee in all his dastardly evilness of course. Then as we approach the finale we are given one set piece after another as the Musketeers battle through 'Rochefort's' men building up to the weary final battle between 'd'Artagnan' and 'Rochefort' himself. The whole last half of this film really is a sight to behold, the action never lets up yet you never see anything brutal, every scene looks tremendous and the humour is never lost. Bit of emotion though, but not too much, nothing to gush over. The cast are still on belting form at every turn, there really is no bad casting or performances from anyone. Both films are supposedly quite accurate to the original novels by Dumas, both films are superb in every detail despite being cut in two, this half easily being the more fun in my opinion. But hell, there really is nothing bad I can say about this final chapter or the previous one. Its more of the same but that's just what you'd want no?. Lester achieves greatness here with these films, its such a shame they don't get much recognition anymore. Don't watch this film without seeing the first chapter as it very possibly might not make any sense hehe but don't hold that against the film, that's up to you. Mr Lester, we salute you (even though you should have backed Donner for 'Sups 2' instead of virtually remaking the whole thing...but I digress).
Phil Hubbs
Super Reviewer
I couldn't imagine the first film of these back-to-back classics being topped. I'm happy to be wrong. I actually like this one better than the first and I'm not quite sure why. Maybe because it's darker, or maybe because there's more action than the first. I'm not exactly sure, but I know that I fell in love with it upon seeing it. I'll be watching this one again for years to come!
Tim Salmons
Super Reviewer
½
first off, this is by no means a sequel to the three musketeers but rather the second half of what was intended to be a 3 1/2 hour roadshow film with intermission. it wasn't meant as a stand alone film and it seems a little unfair to judge it as such. seeing the first half without seeing this is just like reading half of the novel, which it follows closely. this half is quite a bit darker and mostly concerned with the machinations of milady dewinter, a marvelously evil performance by faye dunaway, who will stop at nothing to have her revenge on d'artagnan and the musketeers. for this it has earned a spot in my femme fatale list :D
Stella Dallas
Super Reviewer
The Four Musketeers Quotes
There are no approved quotes yet for this movie.