Four Rooms
(1996)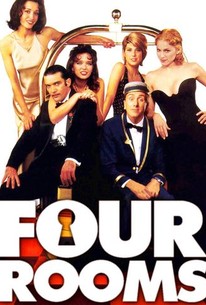 TOMATOMETER
AUDIENCE SCORE
Critic Consensus: Four Rooms comes stocked with a ton of talent on both sides of the camera, yet only manages to add up to a particularly uneven -- and dismayingly uninspired -- anthology effort.
Movie Info
Four of the most celebrated directors in the independent film community pooled their talents for this episodic comedy. Ted (Tim Roth) is the new bellboy at a beautiful but decaying luxury hotel; he is not having a good time of it on New Year's Eve, his first night on the job. In one room, a coven of witches are trying to summon the spirit of the goddess Diana; each of the witches must bring a different bodily fluid for their spell to work, but Eva (Ione Skye), who was supposed to bring semen, managed to lose her supplies, and needs Ted's help for a last-minute replacement. Another room, where Ted was supposed to deliver some ice, turns out to house an angry husband (David Proval), who is holding his bound-and-gagged wife (Jennifer Beals) at gunpoint. A third room is taken by a tough-talking gangster (Antonio Banderas), his doormat wife (Tamlyn Tomita), and their two children; the gangster demands that Ted watch over the kids, who turn out to be mischievous terrors beyond Ted's wildest imagination. And room number four is where an arrogant film actor (Quentin Tarantino) is holding a party. One of his guests makes a bet that he can get a Zippo lighter to light ten times in a row, with his finger at stake if he loses. Allison Anders directed the first segment, which also featured Madonna, Valeria Golino, and Lili Taylor. The second segment was directed by Alexandre Rockwell, husband of his frequent leading lady Jennifer Beals. Robert Rodriguez directed the third story, while the finale was directed by its star, Quentin Tarantino; the final segment also features Bruce Willis, who appeared unbilled.
News & Interviews for Four Rooms
Critic Reviews for Four Rooms
Audience Reviews for Four Rooms
Note: this rating is only for the segment "The Man From Hollywood".
Matt Goodman
Super Reviewer
Angela: Hell of a night, huh Ted? "Twelve outrageous guests. Four scandalous requests. And one lone bellhop, in his first day on the job, who's in for the wildest New year's Eve of his life." Four Rooms is an anthology film that features four directors, each directing a single room, while a bellboy appears in all four stories. Now this is a movie that was nearly impossible to get through. I say that because the first two rooms were so bad. Rodriguez and Tarantino clean it up a little bit, but not enough to save the movie from ultimately being a complete failure. There are a couple moments of comedy, but the rest is just terrible.  Honeymoon Suite- The Missing Ingredient- 1/2  out of 5  Allison Anders writes and directs the first room of this movie and it is miserable. Her story centers around a coven of witches that need some sperm. It's easily the worst thing about this movie. I don't know how Anders thought people would respond to her "idea," but it's just awful. Room 404- The Wrong Man- 1 out of 5 Alexandre Rockwell writes and directs the second room and it is just a tad bit less miserable than the first one. In this one, Ted the Bellboy wonders into a room where a man has his wife tied up and threatens Ted with a gun. This story is all over the place. In the end, I'm not really sure what even happened. The only good thing I could say about "The Wrong Man" is that it isn't as bad as "The Missing Ingredient." Room 309- The Misbehaviors- 3 out of 5 Robert Rodriguez writes and directs the third room and the movie finally begins to be watchable. In this one, Ted is hired to check up on two kids while their parents are out of the room. The kids don't behave as they are told and the story takes an extremely weird twist near the end. Antonio Banderas was easily the best thing about this movie though, in his short time on screen in "The Misbehaviors." Penthouse- The Man From Hollywood- 3 out of 5 Quentin Tarantino writes and directs the fourth and final room and he keeps the movie watchable as well. In the fourth room, Ted has to keep company with a filmmaker and his entourage in the Penthouse. He soon learns that they want him to help them with a little wager they have. It all culminates in a rather fitting end to the movie.  None of the episodes were great. Two were decent and two were absolutely horrible. As it stands, this is an extremely poor anthology. The thought was great. I loved the idea the first time I heard it. Four rooms directed by four different directors sounds good. It gives them all a chance to display their different styles. Well it didn't turn out as great as it sounded. I guess it is worth a look for Rodriguez's and Tarantino's parts, but I'd suggest skipping the first two rooms. 
Melvin White
Super Reviewer
Four Rooms is an enigmatic and so eccentric film that cobbles together the styling of many creative voices, all for a film that is deranged beyond recognition. Written and directed by four different directors and beautifully coalescing thanks to a brilliant performance from chameleon Tm Roth, the film is separated by four different rooms. Each room is directed by a different director including Alexandre Rockwell, Allison Anders, Quentin Tarantino, and Robert Rodriguez. Each has a unique voice within the film, while all delineated back to controlled chaos, culminating in the glorious end that only Tarantino can give. Besides also boasting such a great set of young Hollywood directors it also contains some amazing performances from some of the best actors at the time including Marisa Tomei, Antonio Banderas, Jennifer Beals, Bruce Willis, and Madonna. Each gives us a taste of the odd, the extremity of the party lifestyle, the atmosphere of the hotel, and it centers on the most interesting, no nonsense, character who can be easily swayed with cash advancement. Rockwell focuses on the underlying tension of dysfunctional relationships, Anders shows the extremes of the feminine mystique and its reach in our culture, Rodriguez goes all out and plays worst case scenario, using children as foils to the bellhop (Roth) while also creating realistic and yet flawed characters, and Tarantino is Tarantino through and through. He uses long, uncut shots, his regular of cast of characters, and even puts himself in the scene as the big shot, the movie star among the treacherous bunch in his hotel room. Though the film was hit hard by critics it has resonated with fans because of its beatific quality, its amazing set of characters with extraordinary problems and out of this world circumstances. Truly worth a look into the pysches of four astounding directors and writers.
Spencer S.
Super Reviewer
Four Rooms Quotes
There are no approved quotes yet for this movie.