The Four Skulls of Jonathan Drake
(1959)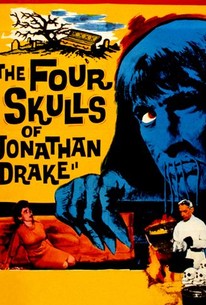 AUDIENCE SCORE
Critic Consensus: No consensus yet.
The Four Skulls of Jonathan Drake Photos
Movie Info
The Jivaro Indians of the upper Amazon basin have place a curse on the descendants of an invading trader. When the trader's ancestor arrives, they plan to extend the curse to the present. Unaware of the curse, the man runs through the jungle in an effort to escape the horror of decapitation and head shrinking.
Critic Reviews for The Four Skulls of Jonathan Drake
Audience Reviews for The Four Skulls of Jonathan Drake
½
First time I saw this was when it was shown on WPIX or WOR when I lived out on the Island. Came on late night on Chiller Theatre, man how I used to love to stay up and watch that program. This movie is pretty cool, a family has a curse on them, and Jonathan is the last brother alive and his skull is needed to complete the curse. It seems shrunken heads keep popping up in this movie. Jonathan shows up in South America to help his brother only to find his brother is dead. Unknowing to anyone at the time a South American Indian whose lips are sealed shut with a sneaker lace stuck him in the neck with a poison Bamboo Knife,(yea go figure on that one). Anyway at the funeral Jonathan wants the coffin open, and wham when its open the old brother is missing his head. Now there is a Witch Doctor running around posing as a doctor, again not know to use is that he is a witch doctor who has a white man's head on a Black Man's Body, hence the witch doctor. And that?s who is trying to complete the curse, and who is shrinking heads. The detective running around is about as smart as a box of cheerio?s. All in all it was an enjoyable B&W film, I'd like to give it 3 1/2 stars, they just don't make them like this anymore. Its added to the collection.
Bruce Bruce
Super Reviewer
The Four Skulls of Jonathan Drake Quotes
There are no approved quotes yet for this movie.