The Fox and the Hound
(1981)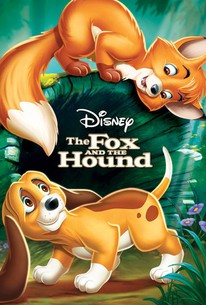 The Fox and the Hound Photos
Movie Info
The lifelong friendship between a fox cub and a bloodhound puppy provides the basis of this rollicking and tender animated tale from Disney.
Critic Reviews for The Fox and the Hound
Audience Reviews for The Fox and the Hound
½
The animation job is exceptional, but the songs are not that great and the simple story, while solid, suffers a bit from the same problems found in most of the movies made by the studio in the 1970s, especially how it feels rather perfunctory and watered down for children.
Carlos Magalhães
Super Reviewer
Doing what Disney has always done best, "The Fox and the Hound" tells real human emotions through that of something else. In this instance, tested friendships told through the perspective of animals. As a baby fox and a puppy meet in the woods outside of their farm houses, they begin to bond, right before the puppy is taken away for a season to become a hunter. Upon returning, he no longer has the same emotions. Meeting new friends and having to accept that you just need to let old friends go is really what the underlying tone is here. That ideal is magnificent for kids and the fact that most adults showing their kids this film have most likely gone through this, is really something special. There is something in this film for all ages. Fantastic from start to finish, this is a brilliantly written children's film that is also great for adults. I love "The Fox and the Hound!"
An endearing and delightful 83 minute movie with lovable characters that will stick with you longer after the credits roll. It's a completely predictable storyline, but one made with the love and craft that only old school Disney can produce. Kids will absolutely love it, while adults will revel in the nostalgia and feel all warm inside.
Josh Lewis
Super Reviewer
The Fox and the Hound Quotes
| | |
| --- | --- |
| Boomer: | [after he and Dinky get shocked] HOLY... |
| Dinky: | ...SM-OKE! (cough) |
| Dinky: | ...SM-OKE! [cough] |
| | |
| --- | --- |
| Young Tod: | Copper, you're my very best friend. |
| Young Copper: | And you're mine too, Tod. |
| Young Tod: | And we'll always be friends forever, won't we? |
| Young Copper: | Yeah, forever. |
| | |
| --- | --- |
| Widow Tweed: | Goodbye may seem forever. Farewell is like the end. But in my heart's the memory, and there you'll always be. |
| | |
| --- | --- |
| Big Mama: | If only the world wouldn't get in the way. If only people would just let you play. They say you're both being fools. You're breaking all the rules. They can't understand the magic of your wonderland. When you're the best of friends, sharing all that you discover. When these moments have past, will that friendship last? Who can say there's a way? Oh I hope, I hope it never ends, 'cause you're the best of friends. |