Foxcatcher
(2014)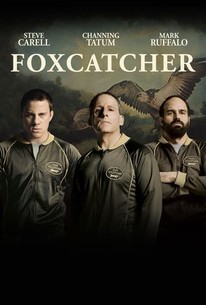 TOMATOMETER
AUDIENCE SCORE
Critic Consensus: A chilling true crime drama, Foxcatcher offers Steve Carell, Mark Ruffalo, and Channing Tatum a chance to shine -- and all three of them rise to the challenge.
Movie Info
FOXCATCHER is a psychological drama directed by Academy Award nominee Bennett Miller (MONEYBALL) and starring Golden Globe winner Steve Carell, Channing Tatum, Academy Award nominee Mark Ruffalo, Academy Award winner Vanessa Redgrave and Sienna Miller. The film was written by E. Max Frye and Academy Award nominee Dan Futterman. FOXCATCHER tells the story of Olympic Gold Medal-winning wrestler Mark Schultz (Tatum), who sees a way out from the shadow of his more celebrated wrestling brother Dave (Ruffalo) and a life of poverty when he is summoned by eccentric multi-millionaire John du Pont (Carell) to move onto his estate and train for the 1988 Seoul Olympics. Desperate to gain the respect of his disapproving mother, du Pont begins "coaching" a world-class athletic team and, in the process, lures Mark into dangerous habits, breaks his confidence and drives him into a self-destructive spiral. Based on actual events, FOXCATCHER is a gripping and profoundly American story of fragile men who pinned their hopes for love and redemption on a desperate obsession for greatness that was to end in tragedy. (c) Sony Classics
News & Interviews for Foxcatcher
Critic Reviews for Foxcatcher
Audience Reviews for Foxcatcher
A story that's tragic at the outset, told by professionals at their craft literally reaching for new heights, makes for exhilarating filmmaking of the highest quality beyond a shadow of a doubt. As some might note, the pace seems slow, but in retrospect the simmer brings forth fully formed human drama. Carell, Tatum and Ruffalo very nearly seem to race to give the best performance and you as judge will be as perplexed as I as to who in fact might have won.
Kevin M. Williams
Super Reviewer
Oddly neutral and lifeless retelling of the events surrounding the Foxcatcher wrestling team of the 80s. The acting is top notch and takes the film through some slow parts, but its almost documentary style keeps the viewer at a distance to the characters and the events. Even the shocking and tragic ending keeps you somewhat unimpressed, but at least it gets you curious about the real persons and events behind this. The acting performances stand out.
½
There are some movies out there that could be considered slower-paced than most, and then there are those films where they move at such a snail's pace that the likes of caffeinated drinks and a purposeful mentality is needed before embarking on such a cinematic adventure. "Foxcatcher" is the latter. "Foxcatcher" is a peculiar beast; not only is the legendary comedy star Steve Carrell playing quite possibly his first dark figure, but the film itself is a chilling tale that creeps at a lumbering pace. It isn't quite so slow however that progression occurs within an hour into the movie -- it just so happens that Bennett Miller reveals story progression crumb by crumb. By the time the film begins finalizing the final act, the narrative takes only 3 significant turns, revealing that the plot, in its entirety, is very slim in density. So why a whopping 2 hour and 10 minute running time for such a gaunt plot? Miller crafts the film to have the tone -- cold, haunting, and dreariness -- as its focal point. By the final minutes of the film, Miller successfully engulfs the audiences in a sludge of dread, betrayal, and confusion that's hard to shake off way after the film has come to a close. "Foxcatcher" may not be the most fast-paced movie nor is it the most immersive, but just like "Requiem for a Dream", its subtle tone slithers around -- up the leg, to the neck. It's not quite the greatest movie that has ever hit cinema theaters, but its different approach to convey a dark, dreary, and cold world differ it from many other films.
Foxcatcher Quotes
| | |
| --- | --- |
| John du Pont: | Ornithologist, Philatelist, Philanthropist. |
| | |
| --- | --- |
| Mark Schultz: | I just don't wanna let you down. |
| | |
| --- | --- |
| Mark Schultz: | You can't buy Dave. |
| | |
| --- | --- |
| John du Pont: | I'm getting Dave. And I don't care how much it costs. |